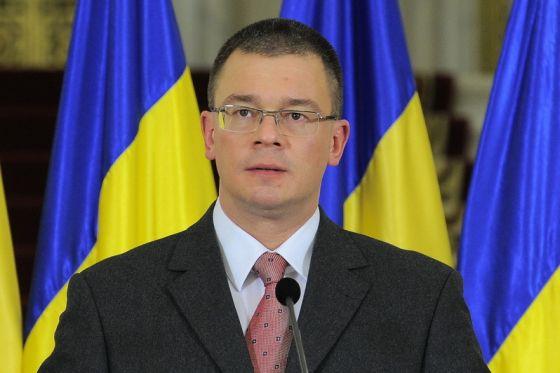 Bucharest, June 30, 2015/ Independent Balkan News Agency
By Daniel Stroe
The Romanian Parliament convened in a joint session today voted in favor of putting Mihai-Razvan Ungureanu (photo) as head of the country's Foreign Intelligence Service (SIE), despite warnings from the ruling majority it would not vote him, three years after he left the same office to take up the PM's seat.
Shortly after the vote, asked about the kind of collaboration with President Klaus Iohannis, the one who nominated him, Ungureanu said the President is also chairman of the Supreme Council for National Defence (CSAT) and "there will be excellent institutional collaboration."
As far as his relationship with Prime Minister Victor Ponta is concerned, he said "[the same] With anyone that may be the prime minister because the prime minister is the deputy chair of the CSAT." He also pointed out, asked whether or not he will resign his senatorial seat, that he is under an obligation to resign. "There are very many procedural things to be solved, and, with the vote and all that means parliamentary procedure, it is normal for my obligation to be to resign my senatorial seat of Arad."
Ungureanu's appointment deals a heavy blow to an already weakened PM Victor Ponta, currently in a hospital in Istanbul where he underwent a knee surgery. Ponta's party, the social-democrats, vowed to reject Ungureanu's nomination and walked out during the vote, but could not prevent the opposition to meet the minimum threshold necessary to hold the vote. In an interview to Financial Times, Iohannis asked for Ponta's resignation again, weeks after the country's anti-corruption prosecutors launched an investigation into graft-related acts Ponta is suspected of having committed.
Ungureanu, a college history professor by training, held the office of Romanian Foreign Intelligence Service head before, in 2007-2012, under the office tenure of former President Traian Basescu, after serving as Romania's foreign minister 2004-2007. He resigned from office on February 8, 2012 to take up the helm of the Government which was to be, in less than three months, the first post-communist government in Romania to be deposed through a no-confidence vote.
He was elected senator on the lists of Right Romania Alliance (ARD), in College 1, of Arad Municipality, in the parliamentary election of December 9, 2012. After President Klaus Iohannis was elected, Ungureanu became his personal adviser. In the National Liberal Party (PNL) he holds the first vice-president chair.