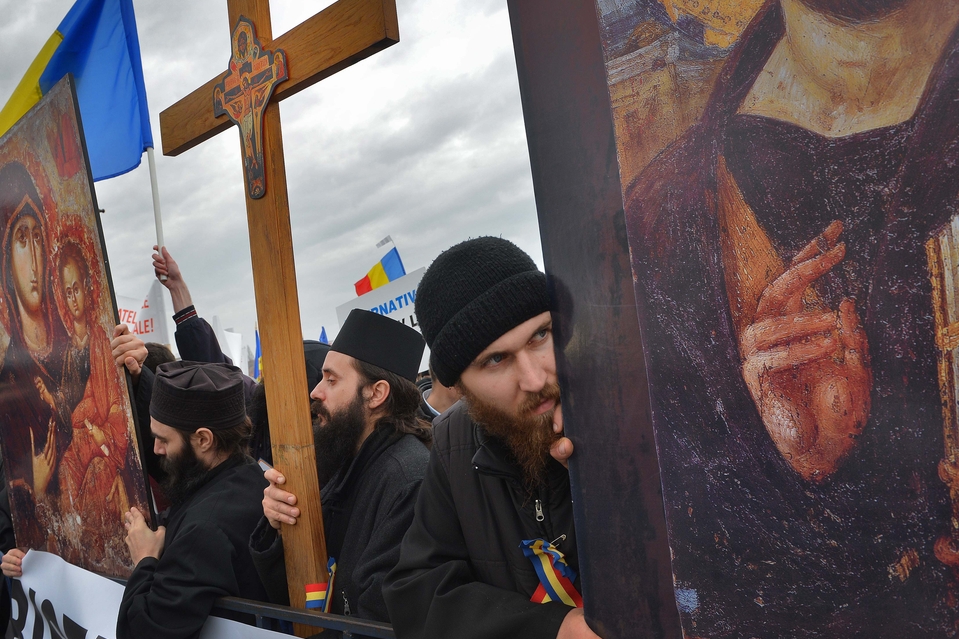 By Daniel Stroe – Bucharest
The Romanian Patriarchy asked its priests to refrain from personally involving in public demonstrations in favor or against the shale gas explorations in order not to divide the Orthodox community, amid press reports representatives of the clergy were at the root of anti-shale gas protests recently held in the countryside.
Last week, during the protest in the village of Pungesti, in eastern Romania, where Chevron is expected to start exploration works, the local priest was at the helm of the demonstrations. The Patriarchy said the priest did not consult the leaders of the Church when taking this decision to join protesting villagers.
The Church also explained the reasons why it has not presented any official decision on the shale gas production – the fact that "it doesn't thoroughly know all the political, economical, social and ecological implications of such a step". The Patriarchy reminded that it formulated an official point of view as concerns another controversial project in Romania, the gold mining at Rosia Montana, only after the Romanian Academy issued a report on this topic, rejecting the project.
Therefore, the Church called on the Romanian Government to present a clear position on the shale gas production and correctly inform the local communities both about the benefits and the negative effects of such projects.
The Church's position comes after a Romanian newspaper disclosed the Patriarchy asked the US company Chevron for financial support for some of its social projects which the Americans rejected. This prompted the Romanian Orthodox Church to place itself against the shale gas production, writes daily Evenimentul Zilei.
But the Patriarchy refuted these allegations which it called "an irresponsible insinuation" and denied the Church's representatives met officials from Chevron. It also rejected any association between its priests present at the protests and Russia which is blamed it is behind the street demonstrations.
Many analysts put the involvement of the priests amid an internal conflict in the Romanian Orthodox Church between the traditionalist and nationalist camp and the pro-Western wing of it. Coincidence or not, the conservative branch of the Church is concentrated in Moldova, where the anti-shale gas protests occurred last week. And the local leaders of the Church never distanced themselves or the Church from the protesting priests which leave the impression they supported them.