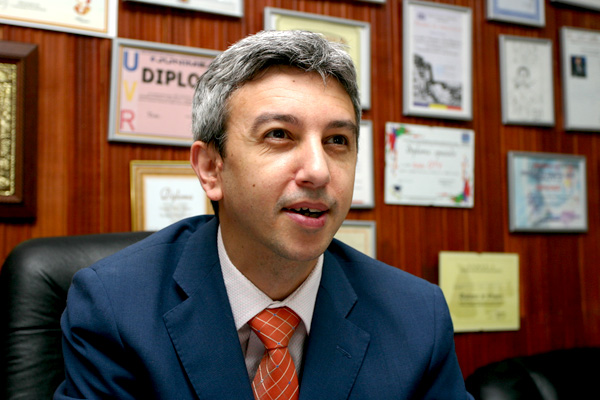 Bucharest, March 4, 2015/ Independent Balkan News Agency
By Daniel Stroe
Dan Diaconescu, once a former media tycoon and who then turned to politics riding on the back of a soaring popularity, has today been sentenced to five years and six months in prison in a resounding extortion file, years after his influential TV station OTV was closed down by authorities.
The sentence passed by Bucharest Court of Appeal is final and irrevocable. Apart from the prison sentence, Diaconescu is also banned from holding any public office for three years after his release.
He was trialed on two counts of blackmail for which he was first arrested in June 2010. Two other collaborators of his were also indicted in the same case. Prosecutors proved that Dan Diaconescu repeatedly threatened, directly by means of his TV station OTV, and indirectly through his collaborators also under trial, the mayor of a town in western Romania to force him pay 200,000 Euros or else he will risk being denigrated on his TV.
The mayor paid about 40,000 Euros to one of Diaconescu's collaborators and the money finally reached the OTV owner before alerting the authorities. At the same time, prosecutors say Diaconescu blackmailed, by means of his station, a businessman to determine him to pay 100,000 Euros or else OTV will disclose compromising information about him.
Diaconescu is the fifth media tycoon who goes behind the bars. The most resounding cases are Dan Voiculescu, last year sentenced to ten years for corruption, and Sorin Ovidiu Vantu, imprisoned for two years and released in the mean time. OTV was withdrawn the license on several occasions by the Romanian authority and finally closed down after failing to pay fines issued by the audio-visual regulatory body.
Dan Diaconescu came to prominence years ago when, enjoying huge popularity thanks to its grassroots TV station, founded a party (Popular Party-Dan Diaconescu – PPDD) which managed to enter the Romanian Parliament at the 2012 elections. PPDD came third then with almost 13 per cent of the votes and set another example how powerful the Romanian media is and the influence it can exert on voters.
With a fortune assessed at 30 million Euros, Diaconescu soon left the "popular" sphere he had labeled himself before his voters and displayed opulence with his two Rolls-Royces, Bentleys, a helicopter and a yacht.  Without his founder's involvement, his party started dismembering and PPDD lawmakers switching to other parties. Today, PPDD is only represented by 12 deputies in the Romanian Parliament's lower house, down from 47 elected in 2012.