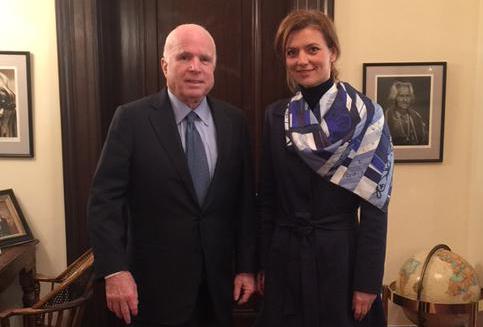 Bucharest, April 21, 2015/ Independent Balkan News Agency
By Daniel Stroe
Co-chair of the National Liberal Party (PNL) Alina Gorghiu met U.S. Senator John McCain and the two discussed the international situation and the need for Romania to be a factor of stability in the region, as well as domestic subjects related to the reform of the political class and the fight against corruption.
"I discussed with Senator John McCain – who is now at his fifth term in the U.S. Congress, and one of the most important voices in American politics on military and international security matters – as well as the need for Romania to be a factor of stability in the region, in the context of the Russia – Ukraine crisis, our country's partnership with NATO and our strategic partnership with the United States," Gorghiu wrote today on Facebook.
At the same time, the Liberal leader mentioned that, during talks with the U.S. official, they also approached topics of domestic interest, such as the reform of Romania's political class, the fight against corruption and the funding of election campaigns.
"I can say in all confidence that Romania has friends in the United States," Alina Gorghiu noted. Gorghiu has led the liberals after Klaus Iohannis won the presidential elections in last November and gave up the party's chairman position soon after.
In his turn, Arizona Senator McCain took to Twitter to announce that he had a good meeting with the Romanian Liberal leader, posting also a photo of himself with Gorghiu. The PNL Co-Chair is currently on visit to the U.S to attend NATO's Parliamentary Assembly held in America, as part of the Romanian delegation.
The Republican senator is the leading voice behind calls for a tougher stance on Russia's aggression in Ukraine, calling on the US administration to supply defensive weapons to the Ukrainian army. He also warned so-called Russian "peacekeeping" forces deployed in breakaway republic of Transnistria could launch an attack on Odessa, Ukraine's main port at the Black Sea.
"Ordered by the Russian President, Vladimir Putin, the Russian army would attack Odessa, using the soldiers from Transnistria. If Vladimir Putin thinks that he will get easily over the Ukraine crisis, without a price, then he will try to attack Odessa, from the separatist part of Republic of Moldova. Russia has 1400 soldiers, a so-called peace-keeping force, in Transnistria", said the Senator for the Ukrainian TSN.