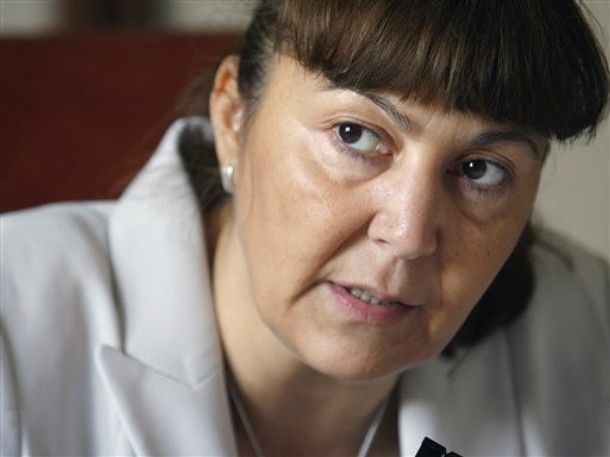 By Daniel Stroe – Bucharest
Romanian former Justice minister and current member of the European Parliament, Monica Macovei, last night officially launched her independent candidacy in this fall's presidential elections, defying her party ranks who chose to go ahead with a different candidate.
Macovei, a member of the Democrat Liberal Party (PDL), is a well known public figure renowned for key judiciary and anti-corruption reforms passed while filling the Justice minister position in 2004-2007. She decided to go on her own in the presidential race after PDL joined forces with the National Liberal party (PNL), the main opposition party in the Romanian Parliament, and agreed on a joint candidate in November's elections. The main contenders are Catalin Predoiu, another former Justice minister, and Klaus Iohannis, mayor of Sibiu, a city in central Romania, and the favorite to win the nomination.
"Thousands of you have called on me to run in the race for Cotroceni (the presidential palace). I am now answering and running. It hasn't been an easy choice, but it is a challenge I assume with determination and faith" she said in a video launched last night in which she reminded Romanians of her major reforms and decisions passed while minister of Justice and Euro-lawmaker, such as help to create the National Anti-Corruption Department and contribution to a pan-European directive which stipulates confiscation of illegally obtained assets.
"Why I am running now, you may wonder. I am running because I know we can do more. We have to wish for more and know we can do more as a country. We don't have any other chance but to ask for more in these elections. We can move forward or we can back 10 or 20 years. The choice is ours. So I decided to run and you have to decide to get involved" she added.
But her candidacy has raised some eyebrows. Speaking to B1 TV yesterday, President Traian Basescu, former head of Macovei's party and whose second consecutive term at the helm of the country ends later this year, warned her candidacy would divide voters on the right side of the political spectrum. He acknowledged though Macovei has all the qualiti4s to make a good president. "I don't think someone can become president in Romania running as independent" Basescu concluded.
But Macovei is likely to make a fine performance in these fall's first round of elections, with a wave of support already active on social media among the civil society and intellectuals. Polls published so far have disconsidered her candidacy, focusing on the two likely main contenders, PM Victor Ponta and Klaus Iohannis.