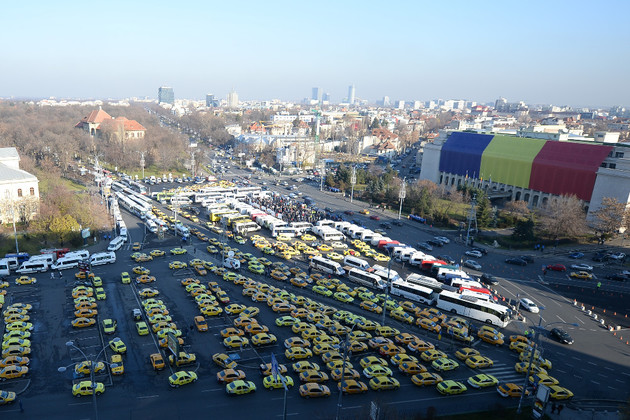 Bucharest, December 17, 2015/Independent Balkan News Agency
By Irina Stoica
Around 3,000 hauliers protest in front of Government's headquarters against compulsory insurance price rise. They took over one of the city's most crowded area around 9:00 am, having come from all over the country. In cars, buses or minibuses, they all started to honk and got everyone's attention for their demands.
The hauliers want a sustainable cost of the RCA insurance, given that its cost increased by 300pct in the last six months for passenger transport and freight transport services, including by taxi, as well as the removal of the extra excise, starting January 1, 2016.
Moreover, the hauliers are requesting the Government's intervention to amend legislation stating that hauliers must pay enormous sums for copyright, although their activity is passenger transport, and not to broadcast musical works or ambient music in buses or taxis.
The protest is organized by the Confederation of Operators and Authorized Transporters in Romania (COTAR) together with the Romanian Transport Operators' Federation (FORT), the Employers' Association of Carriers Europe 2002 (APTE 2002), the Romanian Association for International Road Transport (ARTRI), the National Association of Independent Transporters and Taxi Drivers (ANTTI) and the Transport Operators' Association (APULUM).