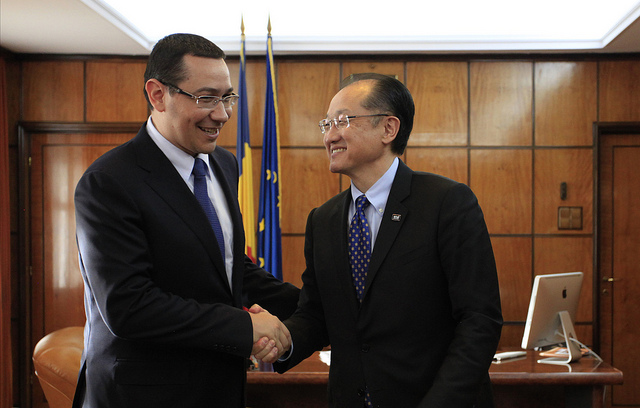 By Daniel Stroe – Bucharest
The Romanian coalition government will raise the fund alloted to social benefits as of 1 July to compensate the increase of energy prices, following a proposal which has been submitted to a two month public debate, PM Victor Ponta announced yesterday during a joint press conference with the visiting World Bank president, Jim Yong-kim.
He revealed the amount of the guaranteed minimum income will gradually go up by an average 13 per cent while family social allowance will increase by 30 per cent.
"As of 1 July, we are capable to raise social benefits to compensate the increase of energy prices" Ponta said. He underlined his executive aims to distribute the benefits of the country's economic growth so they benefit the most socially vulnerable social categories, such as pensioners, population in the rural areas, unemployed people, youth, representatives of the Roma minority and other persons who need assistance programs.
"We are working together with the World Bank to modernize the social assistance programs" Ponta added.
Officials in the Romanian government explained that a process of gradual liberalization of prices in the energy sector will follow so the best way the executive found to protect the vulnerable consumer is to raise the social benefits. They were quick to underline the proposal has already been discussed with the International Monetary Fund, amid fears the measure may be perceived as a populist one.
Many warned the feeble economic growth in Romania may be offset by populist moves, especially after three years of austerity measures which saw a 25 per cent cut of state employees' salaries and a hike of VAT.
Several hundred thousands Romanians will be envisaged by the government's plans which will cost the state budget 150-160 million lei (about 40 million Euros) by the end of the year, officials also said.
The decision comes more than two months after the government submitted to the public debate its proposal to correlate the social benefits with the increase of process for natural gas and electricity.
Photo Flickr.com