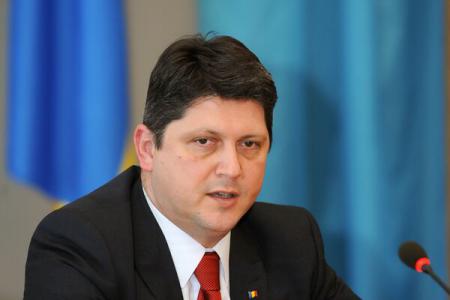 By Daniel Stroe – Bucharest
Romanian Foreign Minister Titus Corlatean has today resigned following an uproar among voters abroad who couldn't vote in the first round of presidential elections and days after tens of thousands of people took to the streets to denounce what they called deliberate obstacles at polling stations in the diaspora.
"I have just informed the Romanian PM that I have decided to depose my mandate as Foreign Affairs Minister. I cannot accept and I won't accept to break the law and legality, I cannot accept that the institution of Ministry of Foreign Affairs be forced to break the law and legality based on political and electoral interests of Messrs. Basescu and Iohannis and I won't accept to provide grounds for contesting the results of the second round of presidential elections on grounds of the illegality to create new polling stations", Corlatean said in a press conference.
His reaction comes as great pressure has been exerted on him to set up new polling stations abroad for the roughly 3 million Romanians in the diaspora. Last week, PM Victor Ponta, who will face Klaus Iohannis this Sunday in the run off of the presidential elections, said Corlatean would guarantee every Romanian citizen abroad access to the polling stations, unlike the situation on 2 November, when thousands of voters remained outside due to poor organization.
Romanian President Traian Basescu also called on Corlatean to resign following the chaos in the first round. Last weekend, tens of thousands of Romanians took to the streets in Romanian cities and abroad to call for supplementary polling stations abroad. They accused PM Victor Ponta of intentionally blocking the voting process abroad because traditionally, the diaspora largely votes against social-democrats and results of the first round supported this conclusion, hence accusations the PM attempted to hinder voters from reaching polling stations. The voting process was impeded by the obligation to fill in a form which couldn't be downloaded from the Internet, few election officials, booths and stamps.
But analysts say Corlatean has been sacrificed to ease the pressure on the prime-minister and leave the electorate the impression heads were rolling after the chaos in the first round. No announcement came from the Government on efforts to open more polling stations abroad which it says would be against the law. But Romanians are even more confused since the Central Electoral Bureau clearly said it had passed a decision which allows the Romanian Government to set up more such stations abroad, turning again the public attention to the Government and its reluctance to open these stations.
Ponta replaced Corlatean with Teodor Melescanu, former head of SIE, Romania's foreign intelligence service and former candidate in the first round of the presidential elections, who vowed to do more to streamline the voting process on Sunday. A second chaotic round of elections would cast serious doubts on the legitimacy of a victory of Victor Ponta, who is favored on Sunday.