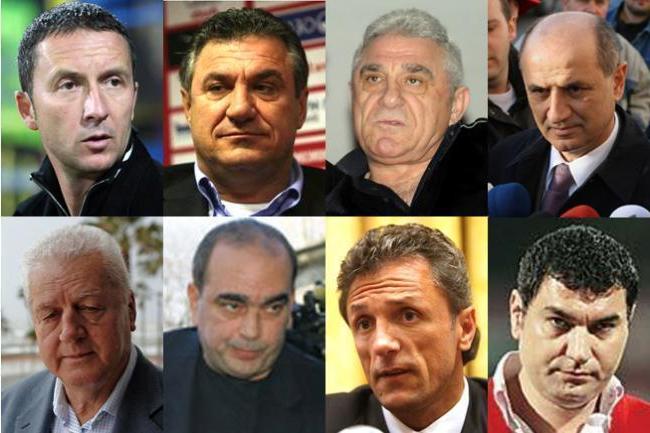 By Daniel Stroe – Bucharest
Eight bosses in the Romanian football have today been given prison terms in one of the most notorious trials in post-communist Romania, but which has been lingering for years due to cumbersome judicial procedures.
The eight have received 35 years in prison in total. George Copos, former owner of FC Rapid Bucharest, got a three years and eight months in prison, Mihai Stoica, general manager of FC Steaua Bucharest, received three years and six months, Cristi Borcea, shareholder at FC Dinamo Bucharest, has been sentenced to six years and four months, Ioan and Victor Becali, football agents, got six years and four months and, respectively, four years and eight months, Jean Padureanu, owner of FC Bistrita, two years and four months, and Gica Popescu, former international and player of FC Barcelona, got three years and a month.
They are all accused of tax evasion, money laundering and dodgy football transfers. All of them have surrendered to police stations across the country before being jailed tonight. Padureanu was picked up by police from a hospital in Bucharest, but he and Ioan Becali will serve a shorter sentence because they are over 60 years old.
Besides the prison terms, the eight will also have to return 9 million Euros in total to the state following the tax evasion they have been found guilty of. The Becali brothers have to return the largest sums, about 5.3 million Euros. Their cousin, George Becali, owner of FC Steaua Bucharest, is already serving a jail term for illegal land sales, a case in which a former Defense minister was also jailed. Other than this, the eight also have to pay trial expenses.
The trial took a dramatic turn after Bucharest Court acquitted all the suspects in April 2012, a verdict which was appealed by prosecutors. In May 2013, the High Court of Justice decided a retrial of the case and sent it back to Bucharest Court of Appeals.
The trial started in October 2008 under suspicion of illegal transactions during transfers of 12 football players to clubs abroad which generated a 1.5 million Euros loss for the state and more than 10 million Euros to four footballs clubs after the transfer amounts were falsified. All the transfers occurred over 1999-2005.
Following the verdict today, Gica Popescu, a contender and favorite for the head of the Romanian Football Federation, withdrew his candidacy. His conviction has shocked the sports media around the world which ran titles like "A legend in prison". He was to be chosen head of the federation tomorrow.