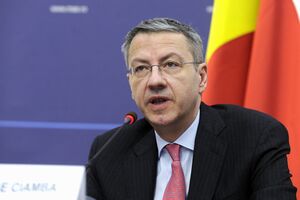 Bucharest, November 24, 2015/Independent Balkan News Agency
By Irina Stoica
Romania supports Turkey in its bid to join the European Union, as this state is a key partner of Romania at a political, strategy-oriented and economical  level, the Foreign Ministry's State Secretary for European Affairs George Ciamba said during an official visit to Ankara, according to a release sent by the ministry.
Ciamba had political consultations with Turkish Minister-designate for European Affairs Volkan Bozkir, Deputy Foreign Minister Ali Naci Koru, Assistant Undersecretary of State for European Affairs at the Turkish Foreign Ministry, Murat Salim Esenli and Under Secretary of State at the European Affairs Ministry, Rauf Engin Soysal. "The visit was part of the framework offered by the Strategic Partnership forged by Romania and Turkey and was aimed at keeping the dynamic of the political consultations between Bucharest and Ankara on matters of interest for the two countries with a view to consolidating the bilateral cooperation", the Foreign Ministry said.
The Romanian official stressed Turkey is the top commercial partner of Romania outside the European Union and the fifth-biggest by the overall Romanian international exchanges. Also approached were "concrete economic projects and ways to boost their materialization", with the cooperation on energy being tackled in this context. "The agenda of the talks included such topics as the EU-Turkey relations, the regional cooperation and the current migration crisis. State Secretary Ciamba reiterated that Romania is consistent in granting Turkey support with a view to joining the European Union and encourages Turkey on its path to reforms and to aligning with the EU acquis", the ministry said.
On the migration crisis, the Romanian official highlighted "the especially important" role of Turkey as a country hosting a very large number of refugees on its territory and playing a key role in solving this crisis.