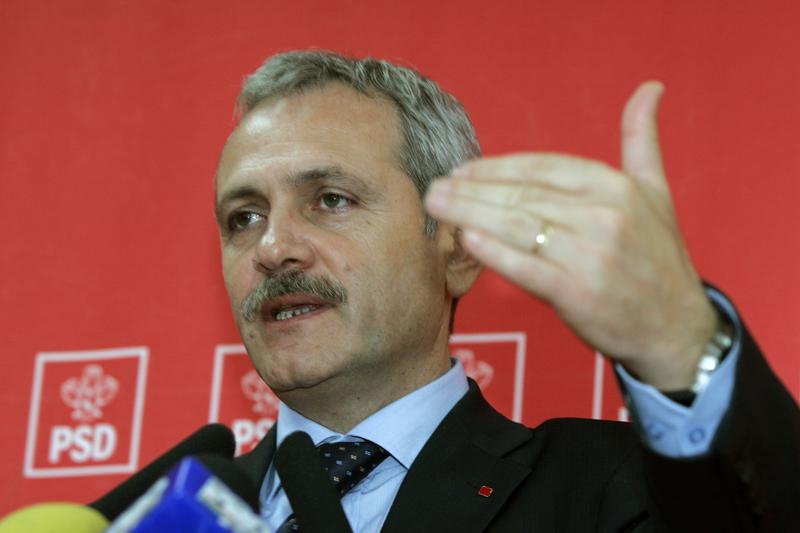 By Daniel Stroe – Bucharest
The Romanian deputy-PM, Liviu Dragnea, suggestively nicknamed a "local baron" by the Romanian media and one of the most influential leaders of the ruling social-democratic party (PSD), was indicted today for electoral fraud committed during last year's referendum for the impeachment of President Traian Basescu, a decision which opens a new political front in Romania.
Dragnea's indictment by the National Anti-Corruption Department comes days after the prosecutor who handled his case was removed by the country's general-prosecutor, a move which sparked concerns home and abroad about the Romania's frail justice system and the political influence on it in a moment when Brussels scrutinizes every move in this area.
Liviu Dragnea is accused of setting up a nation-wide network meant to bring people to the polling stations to make sure Basescu's impeachment referendum in July 2012 reaches the legal limit of turn-out so the president could be removed. The turn-out fell behind the threshold so the referendum was invalidated by the Constitutional Court, even though a large majority of the voters wanted Basescu out of the job.
By means of a computer program especially designed by an employee of PSD, Dragnea sent thousands of text messages to party members and so-called coordinators entrusted with motivating people to go to the polling stations so that the referendum reaches the legal turn out. Dragnea would also receive data in real time about the number of voters in any of the country's 41 counties.
DNA has released part of the text messages its prosecutors intercepted in this case. "Our teams will visit the citizens who have not voted yet and make them come to the polling stations" reads one of the messages. "The Hungarian PM asked the Magyars in Romania not to vote so the referendum is invalidated? Do you want the Hungarians to decide over the Romanians? Come and vote" reads another one. "At 9.00 PM we have about 8 million votes. We only need 100 voters per each station and we can get rid of Basescu. We can do that!" Dragnea urged his coordinators in the territory.
PM Victor Ponta said Dragnea's file is a political one orchestrated by Basescu, another hasty statement on his part after he had called the dismissed prosecutor a "fan of Basescu", remarks which won him a lot of criticism. In his turn, Dragnea refused to submit his resignation, though many analysts warned the indictment should be enough moral grounds for him to quit. At the same time, with another minister under criminal investigation in the government, but still in this seat, namely Varujan Vosganian, the minister of Economy, Romania is likely to get bad marks again from the European Commission for the way politicians relate to the justice system.