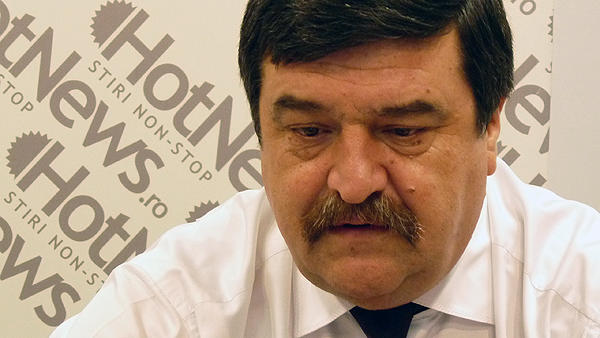 Bucharest, January 22, 2015/ Independent Balkan News Agency
By Daniel Stroe
Toni Grebla, one of the nine judges of Romania's Constitutional Court, was today brought before the National Anti-Corruption Department – DNA's prosecutors under suspicion of accepting bribe from a businessman, a surprise move which confirms the amplitude of the anti-graft efforts in Romania as part of a wider reform of the judiciary.
Grebla was brought to the DNA headquarters early in the morning on the basis of a warrant, says the Romanian media. According to the preliminary information, Grebla is accused of peddling of influence after receiving 56,000 Euros from a businessman in return of a promise he would use his position of top judge to intervene in a matter still unknown.
"I don't know why they brought me here", Grebla said before entering the DNA premises. He added he is not running any private business and ruled out the possibility of accepting money from someone to pass a favorable decision at the court in his favor.
But citing judiciary sources, B1 TV says Toni Grebla is suspected of receiving 56,000 Euros from Ion Bircina, a businessman, in return from the former's intervention by some public officials. The judge also used a mobile phone registered with a company held by Bircina and a luxury car also belonging to the latter.
Bircina is also said to have provided Grebla with different electoral materials, such as banners, during the campaign before the 2012 parliamentary elections. Toni Grebla was then re-elected senator on the social-democratic party's lists and, one year later, in December 2013, appointed judge at the Constitutional Court. A lawyer by training, Grebla was long the chairman of the juridical committee of the Romanian Senate.
In a press release later, DNA said it had started a criminal investigation against Grebla. It further explained Toni Grebla sought to help Bircina's companies to avoid the embargo imposed by Russia on EU food imports by exporting through Turkey. Grebla would have used his influence to obtain customs documents meant to facilitate exports to Russia, the prosecutors explained. DNA said it had cooperated in this high profile file with the Ministry of Interior's internal security service.
Two lawmakers – Iualian Iancu and Lucian Sova – both of them former state secretaries in the Ministry of Economy, have also been heard today in the same file. A country side farm, owned by Grebla's mother-in-law, was also searched by police today.
The news came as a shock today since judges at the Constitutional Court are regarded as high moral enforcers, especially in a country where the judicial system was long seen as under the political influence. The Court announced today Grebla will not be suspended unless indicted, but the case has already cast a shadow over an institution which has been largely politicized lately, especially amid a strong dispute on legislation and policies between current PM Victor Ponta and former President Traian Basescu.