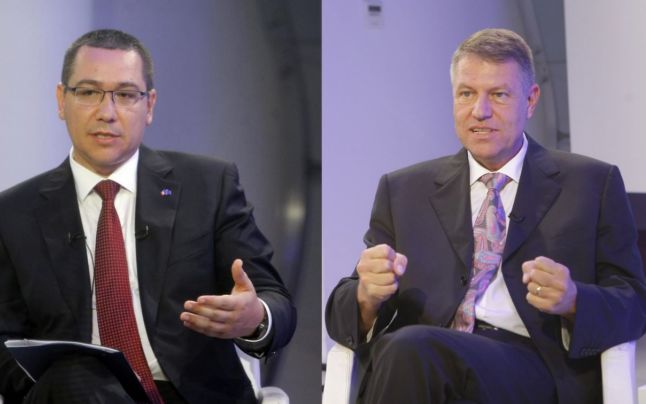 By Daniel Stroe – Bucharest
Several hens, some of them dead, were thrown into the courtyard of the Christian-Democrat Alliance's headquarters in downtown Bucharest, hours before the arrival of Joseph Daul, the head of the European People's Party, to back Klaus Iohannis, the alliance's candidate in the presidential race.
The birds were carrying a note around their throat reading: "I am Iohannis and I am afraid of debates", an allusion to the ethnic German mayor's refusal to attend electoral debates on conditions set by his rival, social-democrat PM Victor Ponta, who prefers to have these discussion on TV sets, rather that in a university, as Iohannis chooses. The latter says he wants debates on a neutral ground, hinting TV stations favor Ponta since some of them are run by his political allies.
"This is an unprecedented campaign, of an extreme violence. It makes me sick. I have never seen since the revolution (in 1989) such a low campaign, of such a rudeness and lack of respect for democratic values. So many dirty attacks, this dirty thing today, these unheard of things", Alina Gorghiu, spokeswoman of the National Liberal Party (PNL), the main party of the alliance, has reacted today.
She said the attack was not random and was timed to happen on the same day Joseph Daul was visiting Romania. "We will make a fool of ourselves in Europe because of I do not remember how many irresponsible gestures. We have filed a complaint with the police to identify the culprits. PSD (the social-democrat party, Ponta's party) is a party of poulterers", she concluded.
In his turn, Iohannis called the campaign "abominable" and likened the hen incident to a Nazi practice which equaled a death threat. "You have set a record, Mr Ponta. It is by far the dirtiest campaign since 1990 and this symbol, you probably don't know, is a very old one and is a direct death threat. This is why I am saying I have never thought we would ever get to this level of electoral campaign, when some use symbols and death threats last time used by Nazis", he said in a press conference today.
Speaking today next to Iohannis, Joseph Daul said he was sure Klaus Iohannis would support values of the European People's Party – rule of law, justice and fight against corruption – value which PM Ponta's commitment to protect is questionable. Daul also pointed out a mayor's experience is very important for a president to be and pointed to Jacques Chirac's experience. "When you are a mayor, you are close to your citizens, you make a decision in the morning and implement it in the afternoon. This is the best experience a presidential candidate can have" he highlighted.
Iohannis' and Ponta's electoral staffs are still embroiled in tough negotiations over an electoral debate, which will be the first in this electoral campaign. If no debate is organized, this will be a first in Romania's post-communist history. Analysts say Iohannis, a soft slow speaking politician, should take advantage of the country's economic situation and Ponta's former attacks on democratic principles to reduce the 10 points gap between him and his rival who starts as a favorite in this Sunday's run-off.