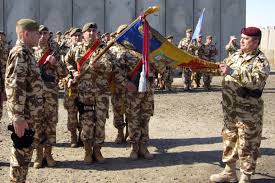 Bucharest, December 11, 2014/ Independent Balkan News Agency
By Daniel Stroe
The Romanian Army, Gendarmerie and the National Anti-Corruption Department (DNA) lead an eight position approval ranking of the state executive institutions, while the Orthodox Church continues to hold the firs position among social and private institutions, but with decreasing ratings, opposite to Presidency which has regained popularity after last month's elections, a polls shows.
The poll, done by INSCOP and commissioned by daily Adevarul, shows the Army remains the most popular state executive institution, with 76.1 % approval ratings, up from 69.2 % in October. Gendarmerie comes second, with 65.3 per cent, up from 60.3 %. The most spectacular increase concerns DNA which was rated 48.3 % in October and goes to 55.8 % in December.
DNA has been at the core of a wide-ranging and unprecedented anti-corruption campaign over the past years which saw former and current high ranking dignitaries, such as former PM Adrian Nastase, sent behind the bars graft. The campaign has lately focused on cleaning the ranks of local elected officials, such as mayors and heads of county councils.
As regards the political institutions, the Presidency's popularity soared after last month's presidential elections won by Klaus Iohannis. Thus, 43.9 % of the Romanians said they now trust the Presidency much and very much, up from 17.8 % in October. Town halls and the Constitutional Court hold the following positions. Presidency has regained popularity following Iohannis's spectacular victory last month amid a huge turnout which analysts say reflected citizens' desire for a change.
The Church maintains its top position in the approval rankings of the social and private institution, with a 60.6 % popularity, down from 62.4 % in October. Last December, the Romanian Orthodox Church had reached a 69.1 per cent popularity, up from 63.9 % in April 2013. The Church has been accused it was taking sides in the electoral campaign and supporting PM Victor Ponta, defeated by Iohannis. Also, its image has been affected by a growing debate on whether religious studies should be compulsory in schools.
Universities come second (43.8 per cent), followed by the media (32.5 %) and the civil society organizations (28.6 %). Banks close the rankings with a 17 per cent approval rating.
The European Union opens the approval ratings of the international institutions, going up three positions, from 48.8 per cent in October to 56.6 % in December. NATO goes down one position and comes second (54.6 per cent from 51.7 % two months ago), followed by the UN (51.6 %) and European Commission (50.8 %, up from 45.2 per cent). The IMF and the World Bank close the rankings, 30 % and, respectively, 39.8 per cent. IMF has been in the spotlight over the past week amid tight negotiations with the Romanian Government over next year's budget deficit.