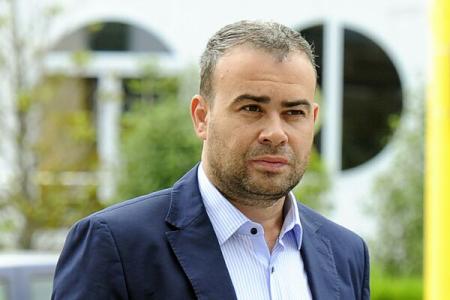 Bucharest, March 19, 2015/ Independent Balkan News Agency
By Daniel Stroe
Romania's Anti-Corruption Department (DNA) sent the country's prosecutor-general a report in which it asks the top magistrate to notify the Romanian Senate on lifting the immunity of Darius Valcov (photo), Finance minister, suspected of peddling of influence.
Valcov is accused by (DNA that, when he was mayor of Slatina (2204-2012), a town in southern Romania, he used his influence to channel some public contracts to a certain company in exchange for 20 per cent commissions amounting to a total 2 million Euros. Valcov left the DNA headquarters last night after a three hour interrogation while DNA said it would indict the minister for peddling o influence. Last Saturday, in the same file, the current mayor of Slatina, Ninel Florin Pena, was detained for 24 hours by the DNA prosecutors.
Part of the 2 million Euros was handed over to Valcov in person and part through some companies to hide the illegal origin. The contracts Valcov made sure reached that specific company envisaged the rehabilitation of the water treatment system in the town and elsewhere in the county.
Following DNA's request today, PM Victor Ponta said he had accepted Valcov's resignation which he submitted last week. "Taking into account DNA's request, I approved Mr. Valcov's resignation! I will present President Iohannis a new proposal for the Ministry of Finance in the shortest time possible", Ponta reacted on Twitter.
Romania's prosecutor-general, Tiberiu Nitu, announced he had already forwarded DNA's request to the Ministry of Justice, the last leg of the procedure before it reached the Romanian Senate. Valcov left the Slatina town hall after he was elected senator in 2012. according to the Romanian legislation, MPs under criminal investigation can be stripped of their immunity only by a vote in the one of the chambers they belong to.
But last week, Romanian lawmakers again embarrassed themselves after rejecting DNA's request to lift the immunity of Laszlo Brobely, former minister of Environment, on three counts of peddling of influence. The vote was another slap on the face of DNA and shows politicians, regardless of the political front, close ranks before anti-graft efforts. Reacting to the vote, the US Embassy in Bucharest reminded Romanian lawmakers that all men are equal before the law, while the Dutch Embassy asked politicians to stick to the recommendations made by the European Commission in its justice evaluation reports.
The Valcov case puts extra pressure on PM Victor Ponta who was relying on the minister to push forward new fiscal codes. Moreover, removing an acting minister under charges of corruption taint the image of the Government in a moment when efforts are being made by President Iohannis's liberals to raise a new majority to oust Ponta from power.