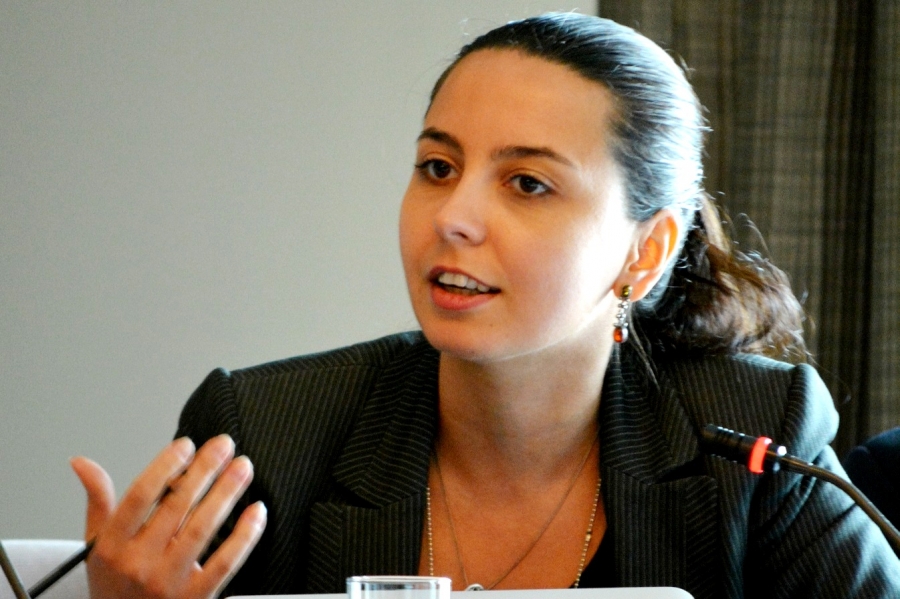 Bucharest, April 17, 2015/ Independent Balkan News Agency
By Daniel Stroe
Laura Stefan (photo), a well known anti-corruption expert and a leading representative of the Romanian civil society, was yesterday awarded a 2015 Woman of Courage Award by the US Embassy in Bucharest, honoring her decade long fight against a social scourge which has left a deep mark on Romania's image abroad.
In presenting the award, US charge d'affaires Dean Thompson said Laura Stefan, a specialist with Expert Forum NGO, is also the embassy's nomination for the International Women of Courage Awards, adding that she is a courageous supporter of the rule of law, judiciary reform and human rights.
Even when facing insults and threats, said Thompson, she continues to tirelessly campaign for all this, and the NGO where she operates – Expert Forum – is a model for Romania's civil society. Laura Stefan, he added, possesses a unique combination of courage, knowledge and inspiration that turn her into a staunch activist in the area of the rule of law, in an excellent mediator of difficult issues, as well as in the best expert in her area.
Thompson also mentioned that, as a former official with the Romanian Justice Ministry, Stefan drew up essential reforming legislation, including the statutes of the National Integrity Agency (ANI). Stefan started her anti-corruption career as a director within the Justice Ministry, entrusted with drafting anti-graft policies. In 2011, the European Commission appointed her a member of the Expert Group on Corruption.
She was a vocal critic of the Romanian government back in 2012 when then social-liberal ruling coalition sought to oust former President Traian Basescu from power by severely encroaching upon fundamental democratic principles. The EU and the USA promptly intervened to prevent what was starting to look like a political coup and Basescu was reinstated following a referendum which missed the constitutional turnout.
Among the other nominees were Executive Director of Romano ButiQ, Nicoleta Bitu, Bucharest University emeritus professor Rodica Mihaila and Carmen Ungurean of the National Public Healthcare Institute. The US Embassy says it has acknowledged Bitu's activity in support of Roma and Romani women and her 20 years of tireless activism that led to the achievement of real progress with the inclusion of Romany women. Mihaila was acknowledged for her efforts to promote reform in the country's decayed educational system while Ungurean was praised for her constant support for women's healthcare.
In a separate event yesterday, President Klaus Iohannis highlighted, in a speech held at a meeting with the President of the European Economic and Social Committee (EESC), Henri Malosse, the importance of strengthening the role of the civil society organizations and their dialogue with the EU bodies. Romanian civil society has gained strength over the past years, especially after Romania joined the EU in 2007, and continues to be a trustworthy watchdog in a country still far from being fully integrated in the communitarian system.