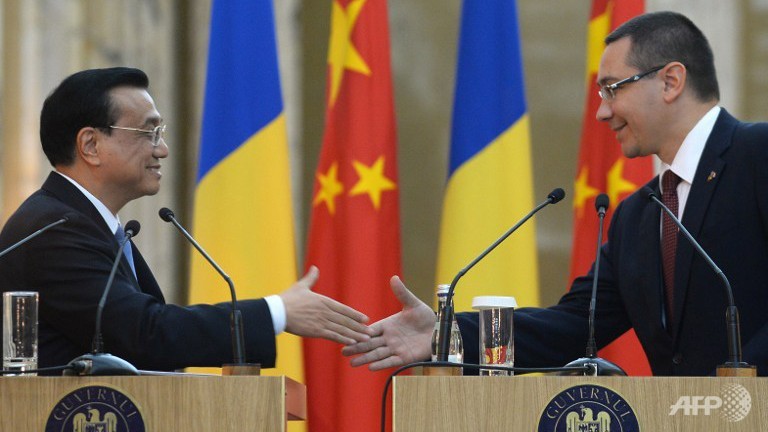 By Daniel Stroe – Bucharest
Romanian PM Victor Ponta is on a three days visit to China, the second since he came to power in 2012, seeking to lure investors to a market which is in dire need of money, especially in the developing infrastructure sector.
The Romanian head of government is accompanied by his deputy Liviu Dragnea and ministers Ioan Rus (Transports), Daniel Constantin (Agriculture) and Constantin Nita (Economy). The plane carrying the Romanian delegation flew over the separatist space of Eastern Ukraine, after initially the Romanian media said Russia banned the flight which was later refuted.
Ponta was yesterday received with a military ceremonial and fire salvos by his Chinese counterpart, Li Keqiang, and is to meet the Chinese President Xi Jinping today. Reminding the audience Chinese-Romanian diplomatic relations turned 65 this year, Ponta pointed out economic relations are developing very fast. "This is a moment in which, besides political relations, economic relations are developing very quickly. If in 2013 the bilateral commercial exchange stood at 4 billion dollars, over the first trimester we have an increase of over 30 per cent. An excellent rhythm! I want to thank you for the support given in developing other projects we established back in Bucharest in the areas of energy, agriculture and infrastructure" Ponta said. He also voiced optimism a Bucharest-Beijing air route would soon be opened.
Romania hosted a China-Eastern and Central Europe economic summit last November that paved the way for Chinese investments in Romania.
A series of agreements were signed in the presence of the two prime-ministers, of which one for the construction of a residential area in the city of Craiova, SW Romania, run by a social-democrat mayor. "It will have 35 blocks totaling 1,850 apartments, with the total value of the project going up to 35 million Euros. Construction works will start in October 2014 and will finish in two years. We have guarantees from the Chinese company works will finish in one year and a half" Craiova's mayor, Olguta Vasilescu, part of the Romanian official delegation, said.
In a meeting with Chinese businessmen, Ponta invited them to invest in Romania, especially in the country's infrastructure which needs modernization. The Romanian PM reminded of a fast train project he last year discussed with Li Keqiang, but also urged investors to help Romania expand its road infrastructure. China Communications Construction Ltd, one of the largest transport infrastructure companies in China, voiced interest in building the Pitesti-Craiova highway, the two cities where Renault and Ford have auto production plants.
Minister Rus also told Chinese investors a transport master plan will be adopted this fall in Romania which will set the main directions for expanding the country's road, rail and maritime infrastructure. He also said he expected Chinese investors to participate in modernizing 14,000 kilometers of railways in Romania over the next years.