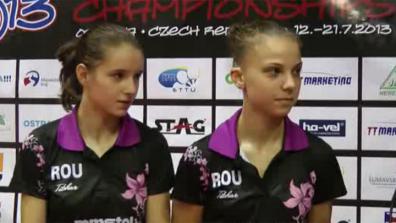 Review by Christos T. Panagopoulos
Romania's Bernadette Szocs and Adina Diaconu are Europe's best women table tennis players, after having won Europe Youth Top 10 competition held in Terni, Italy for juniors and cadets respectively.
This is Szocs's 5th Europe Youth Top 10 tournament win, after the victories in 2009 (Rotterdam), 2010 (Topolcany), 2011 (Schwechat) and 2012 (Buzau). Szocs scored eight wins in nine games.
The cadets' competition was won by Diaconu, who was the victor in all games. Diaconu had also won the cadets' European champion's title earlier this year.
Romania's Andreea Clapa came in 3rd, having won seven of the nine games played.
Source: Agerpres