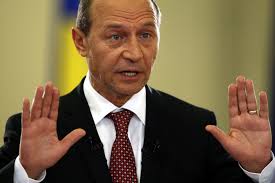 By Daniel Stroe – Bucharest
The Romanian President Traian Basescu today pointed out he had informed the European Council that Romania will redefine its energy policy based on its own resources and without awaiting anybody's approval, two days after the failure of the EU-backed Nabucco project which Romania was part of.
Basescu made these statements in a press conference at the end of the European Council in Brussels. "Without going into details, the option now without any doubt is Romania being forced to accelerate the evaluation process and move to exploiting the shale gas and the gas and oil already confirmed in the Black Sea" he said.
The president added he had expressed his regret to the European leaders over the failure of the Nabucco pipeline project which was designed to bring Caspian gas to Central Europe through Turkey, Bulgaria, Romania, Hungary and Austria. Last week, Azerbaijan decided to instead transport its gas to Europe via another pipeline, the Trans-Adriatic Pipeline (TAP) at the expense of Nabucco. TAP crosses Turkey, Greece, Albania and ends in Italy.
Basescu went on to plea in favor of the shale gas extraction. "Romania has to take the energy strategy into its own hands. Romania has the chance to give Romanians shale gas at least 50 per cent cheaper before the date Nabucco would have been finished and gas from the Black Sea at a reasonable price", he stressed in his press conference.
The head of state pointed out the central authorities in Bucharest now have to explain and convince the population that the fracking technology used to extract the shale has evolved very much compared to the images people saw in America where the drilling was at the beginning. "We have an alternative and have to put into practice" he added, underlining the shale gas and the Black Sea gas extraction could start in four years.
Basescu rejected the claims according to which Romania now seeks to join the Russian-backed project South Stream, arguing this would run counter to the country's objective of diversifying its gas supply sources. "The most important message is Romania doesn't want to remain dependent on a single supplier and we self-define our energy policy taking into account the failure of the European project. We can stay arm-crossed until Europe comes up with another project which we do not even know whether it will be successful" he highlighted.