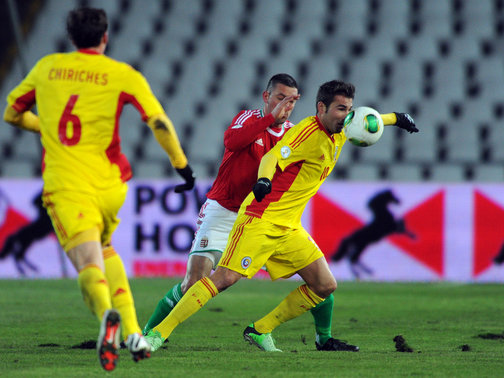 By Daniel Stroe – Bucharest
Romania faces Hungary tonight in a match which many see as a genuine final for second position in group D for the World Cup 2014 qualification but which also has been labeled as a confrontation of two nations due to the hot passion around this sports event.
Bucharest's downtown area was under siege today after Hungarian fans clashed with the gendarmes before the match. The police had to use tear gas after the fans broke the barrage and started aggressing passers-by and throwing rocks. Apparently the fans got angry after the riot police informed them they had to leave the pub area in Bucharest's old town in order to be transported to the stadium.
Three Hungarians were taken to a hospital in Bucharest after clashes. A few hours before, gendarmes had to intervene in Gara de Nord, Bucharest's main railway gate, after the fans turned violent. More than 2.900 Hungarian fans are expected to be on National Arena, but the number is expected to be higher if the Magyar fans in Romania are taken into account.
"Those who have not played in Bucharest yet do not know what to expect" the Hungarian coach Sandor Egervary warned his players about the atmosphere on the stadium.
In the first round, the match, which ended 2-2, was held on a closed stadium in Budapest due to a decision by UEFA which punished the Hungarian Football Federation for anti-Semitic chants by Hungary fans in a friendly at home to Israel on August 15. The match on March 22 ended in street violent protests in Budapest after Romania scored and equalized in the last minutes.
A match which is hostage to history, the American newspaper New York Times also underlined, pointing out the tension and nationalistic passion stirred by the sports confrontation. The match also comes amid a fierce rhetoric between Bucharest and Budapest sparked by a series of statements made by Hungarian politicians in Transylvania this summer in support for the Magyar minority's quest for autonomy.
The match carries even more weight for the Hungarians who have not qualified for a World Cup in three decades and a European championship in four.