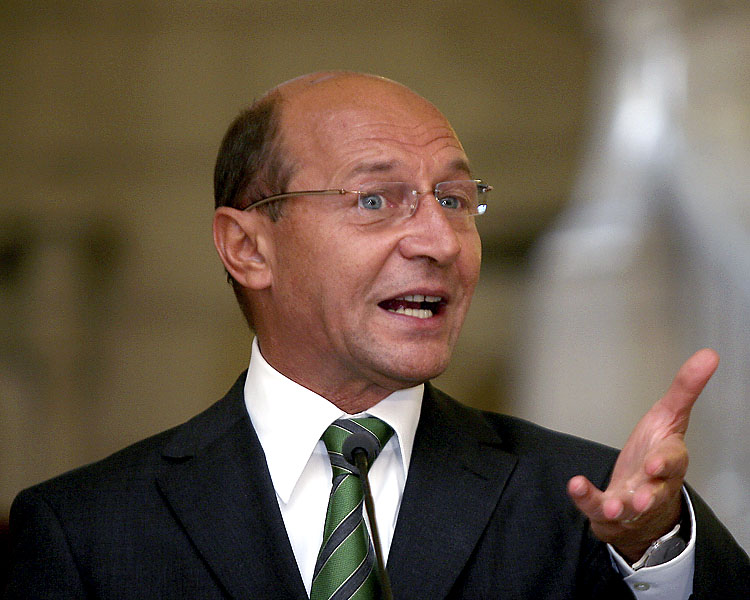 Review by Christos T. Panagopoulos –
Romanian President, Traian Basescu, on Wednesday welcomed visiting Estonia's President Toomas Henrik Ilves, with whom he held a joint press conference. The two officials were asked to comment on a recent statement by Rogozin that Romania is planning on getting Moldova into the EU so that it may afterwards annex it to it.
"May God permit that we succeed with the European accession! Romania has never voiced intention to annex any country, but or battle is for Moldova's integration with the European Union and this way there will almost be no more borders; we would all be European citizens, both Romanians and Moldovans; we will speak the same language and share more or less the same objectives and have the same history inside the EU. Statements such as that mentioned by Rogozin are frequent. The first thing he does when waking up is making a statement on Romania, after which I suspect he drinks his tea or coffee, whatever", said Basescu.
He pointed out that Romania was the first country to recognize the independence of Moldova.
'Romania was the first country in the world to have recognised the independence of Moldova, and this should be underscored in opposition to the statements of the infamous Russian dignitary,' said Bascesu.
Estonia's president said the only annexation was that of Estonia, Latvia, Lithuania and Bessarabia to Russia.
'These are all instances of annexation. What is strange is that they never confessed having done it and these are the cases I know of,' said Ilves.
On his Twitter account, Rogozin on Wednesday commented on a meeting of President Basescu and Chairman of the Moldovan Parliament Igor Corman, claiming that the Romanian president is planning on getting the Republic of Moldova inside the European Union so that Romania may annex the country afterwards.
Source: Agerpres