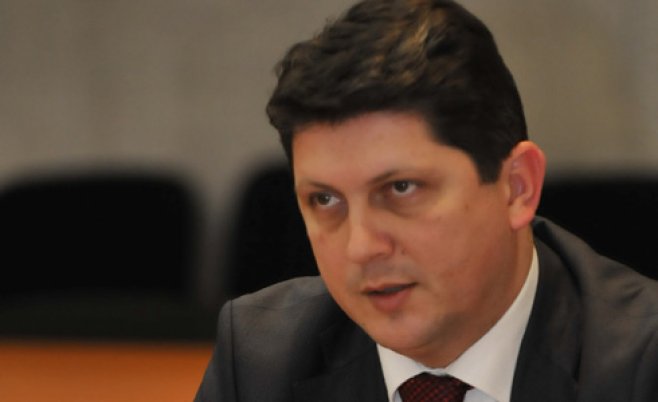 By Daniel Stroe – Bucharest
The Romanian minister of Foreign Affairs declared himself surprised and asked for explanations after the European commissioner for Energy labeled Romania, among other EU countries, as a country almost ungovernable.
"I am profoundly surprised by the remarks made concerning Romania. We are awaiting official public and convincing explanations before making any other comments" Titus Corlatean (photo), Romanian minister of Foreign Affairs, reacted last night.
The European commissioner for Energy, Gunther Oettinger, said yesterday, in a tough speech delivered in Brussels yesterday, at a joint meeting of the Germany-Luxembourg-Belgium Chamber of Commerce, that countries like Romania, Bulgaria and Italy are "simply almost ungovernable" while warning that France is totally unprepared to cope with the reforms it has to pass amid the economic crisis.
"I am worried by countries which, fundamentally speaking, are simply almost ungovernable: Bulgaria, Romania and Italy" Oettinger said. The German commissioner also lashed out at the more and more powerful Euro-skeptical feelings in Great Britain.
Oettinger made these remarks while drawing an alarm call that EU is an institution which badly needs an overhaul, despite the general perception that things go well in the communitarian space. "The real dimension of the problem has not been identified yet" he said, as quoted by DW. Instead of taking care of its own crisis, EU has behaved like a charity organization for the rest of the world.
He even criticized the German government for trying to outlaw shale gas explorations while not caring at all about how natural gas extractions in Russia impact on the environment there. "This is what I call hypocrisy" he said.
The German commissioner's statements irritated the Italian authorities and the Italian media asked for explanations. In return, the German government distanced itself from Oettinger's comments. "You will never hear suck remarks concerning Italy from the German government" Steffen Seibert, spokesman of the federal government, told Italian newspaper Il Sole 24 Ore.
In Brussels, the European Commission also took a cautious stance. Oettinger made personal statements as a mere politician, not a representative of the European executive arm, Pia Hansen, spokeswoman for the commission, underlined.
Romania came in the cross-hairs of the government in Berlin last year after the newly installed ruling coalition in Bucharest tried to remove President Traian Basescu, their political rival, from power. To this end, the coalition rushed to amend laws and cut down the powers of the Constitutional Court, to Europe's dismay which reacted fiercely and warned against serious rule of law encroachments in Romania. The political turmoil last summer in Bucharest cost Romania the Schengen accession due to fears in many Western countries concerning an immature and unstable democratic system.