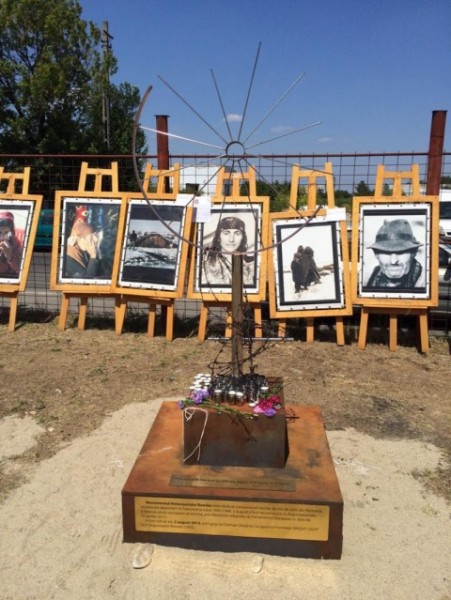 Bucharest, August 9, 2015/ Independent Balkan News Agency
By Daniel Stroe
The first monument commemorating the Roma Holocaust was unveiled at the Roma Culture Museum in Bucharest, on the last day of the Pakivalo Solidarity Festival, with a few survivors of the WWII deportations in Transnistria attending the event, the organizers announced in a press release.
According to the document, the monument is a tribute to the memory of Roma victims deported and exterminated in Transnistria and the Auschwitz — Birkenau death camp between 1940 — 1944. The monument will be later moved and displayed at the European Parliament's premises, while a second one will be set up in a public space.
"Both the Roma community and the Romanians needed such a symbol to be able to reconnect through the empathy generated by such huge human suffering. The monument is at the same time an important step towards rebuilding the collective memory of the Roma community that needs strong regenerative symbols. Without a common history and memory, a future project of integrating and developing the Roma communities is unconceivable. This monument tells a story about the striving for freedom of all human beings. It also bears testament to a dark past humanity must never get trapped into again," said Damian Draghici, a Roma artist turned politician and a member of the European Parliament, one of project's initiators.
The step comes months after the European Parliament adopted on April 15 a resolution recognizing August 2 as European Roma Holocaust Memorial Day and anti-Gypsyism at every level is seen as an attitude incompatible with EU values, the cited source also informs.
"The official recognition by the European Parliament of Roma sufferings in the time of the Holocaust is the pinnacle of a sustained battle initiated many years ago by the late sociologist Nicolae Gheorghe, [an advocate and promoter of the Roma identity redefinition on a non-discriminating base]. We remember him and the Roma victims deported to Transnistria by unveiling this monument in the courtyard of the Roma Culture Museum, at the Pakivalo Festival," said Nicoleta Bitu, executive director of the Romano ButiQ Association.
"The monument was built around the solar symbol of the twelve-spoke wheel that signifies a well-known Roma spiritual archetype of Liberty as dynamic space and time", organizers further said. Attending the monument-unveiling event were Roma survivors of the deportations to Transnistria, which made tens of thousands of Roma victims in WWII Romania, civil society representatives, academics and state officials.
The monument was erected through the diligence of Damian Draghici, with support of the Bright Light Foundation and the Romani Criss Roma Center for Social Intervention and Studies.