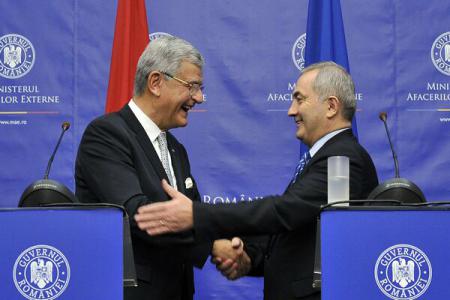 Bucharest, February 12, 2016/Independent Balkan News Agency
By Irina Stoica
Turkey is a key actor in the current migrant crisis and no solution is possible without Turkish help. It's what Romanian Foreign Affairs Minister Lazar Comanescu stated after a meeting with the Turkish Minister for EU AffairsVolkan Bozkir, in Bucharest.
The Romanian minister said that solving the problems connected to migration required a "very close" cooperation between the European Union and partner countries, including Turkey. "We stated from the very beginning that solving this problem required a very close cooperation between the EU and partner countries, and Turkey is one of the key actors in this respect and the fact that a EU-Turkey action plan was agreed upon is a very important thing", Comanescu said.
He also reaffirmed Romania's "strong support" for Turkey's bid to join the European Union. "We welcomed the fact that lately there have been developments in measure to intensify the negotiation process by opening new negotiation chapters", the minister stated.
Comanescu described the bilateral relations between the two states as "excellent", pointing out that Turkey was one of Romania's main economic partners and its the most important trading partner outside the EU. "In these troubled years, in the situations we are facing, Turkey and Romania have never had difficulties in bilateral relations, were always together, looked in the same direction and supported each other in their views. I believe this is a very good example for other parts of the world", the Turkish minister stated.