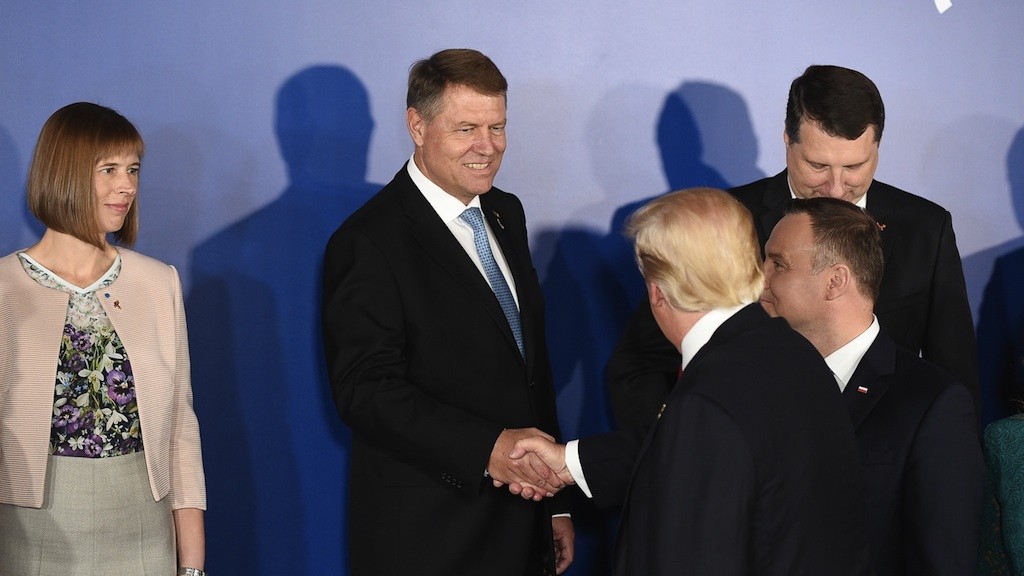 US President Trump thanks Romanian soldiers for their 'great job'
Romania will host the "Three Seas Initiative" Summit in 2018, official sources told Romanian press agencies.
According to these official sources, Romanian President Klaus Iohannis proposed at the "Three Seas Initiative" Summit (the Baltic-the Adriatic—the Black Sea), taking place in Warsaw on Thursday, that Bucharest should host the next meeting in 2018, and all leaders present in Warsaw agreed President Iohannis' proposal.
"Romania's President underlined that the added value of this initiative consists in its ability to shape concrete interconnection projects, particularly in the transport and energy sectors," the quoted sources explained.
In the speech addressing the summit, President Iohannis stated that the trans-Atlantic relationship is vital, stressing that Romania is active and committed supporter of this relationship.
"Romania will continue to be an active and committed supporter of the trans-Atlantic relationship, which is vital because it is the very spine of our Western civilisation. We have to work together to make it stronger. I believe it is commonly acknowledged that the EU needs the US and the United States needs the EU," Iohannis said, while remarking that the presence of the US President Donald Trump in Central and Eastern Europe is highly regarded and considered a clear evidence of the US commitment to the security and prosperity of the region and the entire Europe, as well as a proof of the US commitment to expand economic relations with Europe.
President Klaus Iohannis is attending the "Three Seas Initiative" Summit, next to leaders of 12 other states. US President Donald Trump is also present as special guest.
In a keynote speech in Warsaw, his first public speech delivered in Europe, US President Donald Trump stated that the future of Western civilisation is at stake, also saying talks he had attended in Warsaw of 12 nations with interests in the Baltic, the Adriatic and the Black Sea – the "Three Seas" summit – had been "incredibly successful".
Trump thanked US, British, Romanian and Polish soldiers for doing "a great job" in Eastern Europe. The four forces are providing the defence on the NATO's Eastern flank.
"We are proudly joined on stage by American, Polish, British, and Romanian soldiers. Thank you. Great job," said Trump./IBNA
Source: romaniajournal.ro