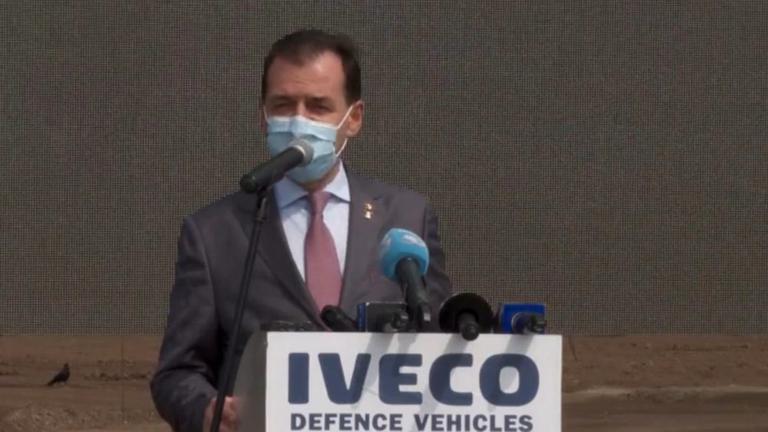 On Tuesday, Prime Minister Ludovic Orban and the Ministers of Economy, National Defense and Transport took part in the inauguration of the construction of the truck assembly plant in Petrești, Dâmbovița Region, which will become part of the Romanian Army, following the agreement signed with the Italian company Iveco Defense Vehicles. This agreement covers the purchase of 2,902 wheeled transport platforms. 80% of the contract value, excluding VAT, will have an impact on the national economy.
The unit will have an area of ​​9,000 m2 with a production capacity of 440 trucks per year. The investment amounts to 50 million euros, while at least 200 jobs will be initially created.
"The army equipment program should signal the revival of Romania's defense industry, both through Romanian companies and through partnering companies in this project", said Ludovic Orban. In this context, he recalled the signing by the Craiova aircraft factory of a first significant contract worth 57 million euros, for the modernization of the Romanian aircraft IAR-99 "Faucon".
"After the construction of the truck assembly plant, Romania will become the fourth country in the world where Iveco Defense Vehicles will have military capacity to produce vehicles, following Italy, Germany and Brazil", the company spokesman said. Ludovic Orban welcomed the Italian company's decision to establish the Regional Center for Central and Eastern Europe in Bucharest.
On Wednesday and Thursday, National Defense Minister Nicolae Ciucă will attend in Berlin the informal meeting of the EU Member-States' Ministers of Defense. The agenda includes discussions on the European Union's operational commitments and development cooperation with partners, the European Union's future guidance on security and defense – the strategic compass and the concept of a European security and defense culture in the aftermath of the COVID era. /ibna