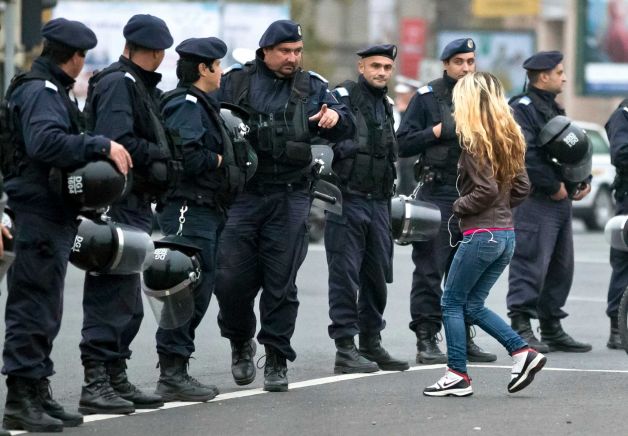 By Daniel Stroe – Bucharest
The Romanian Government asked the police and gendarmes to sharpen measures against unauthorized streets protests across the country which have multiplied lately and which ended in blocking road traffic either in the cities or on national roads.
Romania has been for more than a month the stage of wide street protests against the gold mining project at Rosia Montana, in Western Carpathians, and, recently, the shale gas explorations in the east of the country. Other than limited scuffles, the gendarmes refrained from intervening to disperse the crowds.
But in a press conference today, Radu Stroe, minister of the Interior, warned the situation would change. While underlining the state authorities seek to avoid direct confrontation with the citizens who protest peacefully, Stroe warned "it has been too long and the organizers of the protests need to understand they have to observe the law, willy-nilly".
The minister summoned all the commanders of the Romanian Gendarmerie to discuss ways to deal with the flurry of spontaneous protests lately and which blocked thoroughfares in Bucharest. Sunday night, people protesting against the gold mining project blocked the University Square in downtown Bucharest and, despite gendarmes' warnings, they refused to allow car traffic to resume. In the Vaslui County, villagers protesting shale gas explorations briefly blocked a national road before gendarmes pushed them back.
The gendarmes will first seek to make sure the protests are authorized and will keep a direct dialogue with the organizers in this respect. If a spontaneous protest is held, the gendarmes will first fine those protesters blocking roads. At the same time, protesters will be from now on monitored from the armored vehicles, not only by ground riot police, which suggests gendarmes will be prepared to use force if necessary, according to the news wire Mediafax.
The new measures comes as the Romanian authorities have been criticized they have been too lenient with the protesters which prompted the latter to deviate from the pre-established route of the demonstrations to the anger of Bucharest's drivers. Minister Stroe himself admitted today the negative image his institution has gained from "not applying the law completely".
Most probably, the gendarmes' low profile in handling the protests is explained through the central authorities' desire not to inflame the street amid the already sensitive debates on the cyanide-based mining project and shale gas production. Lawmakers fear that, if approved, the projects will cost them votes and, if violence involved, the situation will spiral out of control.