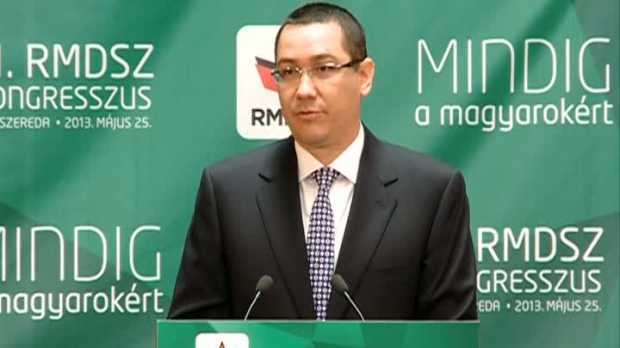 By Daniel Stroe – Bucharest
Romanian PM Victor Ponta last night slammed his ruling coalition ally UDMR – the Hungarian ethnics representing largest party – after calls for Romania to withdraw from a trial at the EU's court of justice on an initiative endorsed by minorities across Europe for deeper cultural and linguistic autonomy.
UDMR threatened it would withdraw from power unless Romania gives up its intervention at the EU's Tribunal in a trial in which Bucharest sides with the European Commission against a citizens' draft law, Minority Safe Pack, also supported by UDMR. The initiative, which was rejected by the European Commission last year on grounds that such decision belong solely to national governments according to the EU Treaties, calls for linguistic and cultural autonomy for areas inhabited by ethnic minorities, such as Szeklersland in central Romania, Austrians in South Tyrol, Hungarians in Slovakia and Germans in Denmark and Belgium.
The signers of the initiative filed an appeal at the EU's Court of Justice and Romania decided to side with the European Commission in this trial.
"I am underlining again and I believe in that, when it comes to coalition matters, we can negotiate almost anything. But when it comes to state affairs, this is not negotiable even if the government falls" Ponta said in a live talk-show hosted by B1 TV.
"Coalitions come and go, the state stays. It is not fair we are asked to give up the Romanian state's position" Foreign minister Titus Corlatean also reacted, pointing out the Romanian Government could have asked UDMR to give up its support for the controversial initiative, but it didn't.
In a previous reaction, the Romanian Ministry of Foreign Affairs slammed Hungary for tacitly supporting this initiative. "Of course, in this juridical procedure, two conflicting points of view are colliding – one of the European Union which Romania considers to be correct and support, and, on the other side is Hungary, intervening part in this trial, which seeks to fulfill, by means of the EU, its desire to become a trans-national guardian of Magyar ethnic minorities in the EU member states" a press release read.
Magyars' quest for autonomy in Romania has drawn the ire of the Romanian authorities after various radical speeches delivered at summer schools in Szeklersland. Romania warned Hungarian officials last year they could be denied entry if such revisionist rhetoric continues. About 4,000 Magyars marched last March in the Romanian city of Targu Mures chanting pro-autonomy slogans and sporadically clashing with gendarmes, prompting Romanian officials to call for several far right Hungarian politicians to be banned from entering Romania.