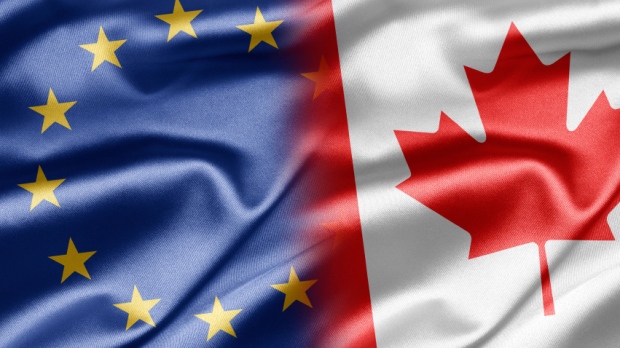 Romania does not agree with the signing of the trade agreement with Canada, the Romanian Foreign Ministry (MAE) informs. Romania is against this agreement which the European Union and Canada want to sign next week because Canada maintains the visas for Romanians. "Romania has reiterated that it cannot support the steps for the signing and the temporary implementation of the economic and trade agreement EU-Canada," State Secretary Cristian Badescu says in a MAE release.
Badescu made the announcement after participating to the EU's General Affairs Council in Luxembourg.
This is one of the very rare situations when Romania threatens to use the veto right within the EU.
Romania's Ambassador to the European Union, Luminita Odobescu (photo), said on Tuesday that a solution on lifting the visas for Canada 'is within reach', politico.com reports, quoted by hotnews.ro.
The EU ministers of trade, meeting in Luxembourg, failed to approve the free trade agreement with Canada, following opposition of three countries: Belgium, Romania and Bulgaria.
Belgium's opposition comes after a veto expressed by the Legislative Assembly of Wallonia. Romania and Bulgaria condition the signing of the agreement by the visa waiver for their citizens.
"At this moment, we cannot give up our reserves," said Luminita Odobescu. "We've had intense and constructive discussions with the Canadian authorities on the issue of visa liberalization. A solution is within reach, we are waiting for the final confirmation."
Diplomatic sources, quoted by 'Politico', say that the Canadian government led by PM Justin Trudeau has conditioned a compromise on lifting visas for Romania and Bulgaria in December 2017 on unblocking the Belgian veto.
"It is clear that Trudeau will not make a statement on visa-free regime for Bulgaria and Romania until he knows whether he has an agreement with Belgium," a diplomat has said.
On Tuesday, the European Commission gave an ultimatum to Belgium to approve the agreement by Friday.
The signing of this free trade agreement with Canada is scheduled on October 27 at the EU-Canada summit to be held in Brussels, which is to be attended by the Canadian Premier Justin Trudeau.
The Romanian government refused in early October the first offer from Canadian authorities on waiving visas for Romanian citizens. Canada sent to Bucharest and Sofia the proposal that visas are to be lifted in steps until May 2018 at the latest./IBNA
Source: romaniajournal.ro