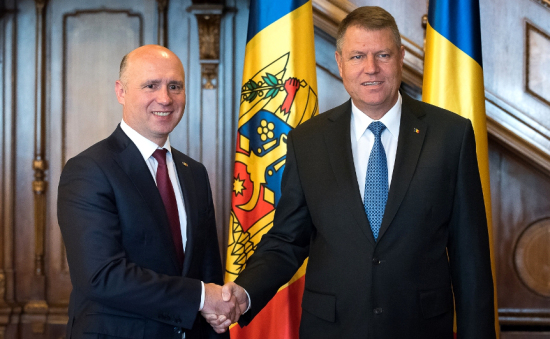 Bucharest, January 27, 2015/Independent Balkan News Agency
By Irina Stoica
Romanian President Klaus Iohannis told visiting Moldovan Prime Minister Pavel Filip that Romania stands next to the Republic of Moldova and supports its European path.
"Romania is definitely alongside the Republic of Moldova. We want to support you on your European path, and I am sure that together we will find the best approaches," Iohannis told Filip yesterday at the beginning of their meeting at the Cotroceni Palace, the seat of the Romanian Presidential Administration.
"You have taken over a difficult mandate, in hard times, but I think this difficult tenure can be also beautiful. You have a great opportunity, through firm reforms carried out, to restore Moldova's political, economic and financial stability, and ultimately restore Moldovan citizens' confidence of a government being there to deal with Moldova's and Moldovans' problems," the President asserted.
The Moldovan premier had already met on his Romanian counterpart Dacian Ciolos.Pavel Filip came to Bucharest in search of a solution to take his country out of the serious political and economic crisis it is facing. "Now, more than ever, this support is vital to the citizens of the Republic of Moldova", Filip said during his meeting with Romanian PM.
The government in Bucharest promised immediate help for needy families in Moldova to live through the winter. State reserve funds are to be used for this purpose if necessary. However, the Republic of Moldova must meet certain basic conditions before receiving the promised financial support. "Before we disburse the first tranche of this loan agreement, we expect the government of the Republic of Moldova to come up with concrete measures to prove their commitment to reform", Dacian Ciolos told his counterpart.