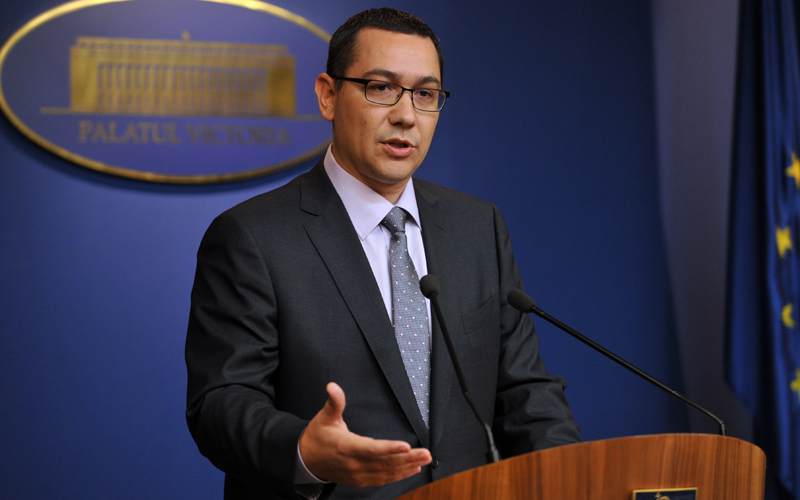 Bucharest, May 29, 2015/ Independent Balkan News Agency
By Daniel Stroe
Prime Minister Victor Ponta today said Romania wants to join the Eurozone in the second half of 2019, but pointed out this objective involves a national political consensus.
"Romania wants to join the Eurozone in the second half of 2019. That is a symbolic moment because at that time Romania will hold the rotating presidency of the EU. But there are some essential steps to be taken in order to achieve the objective. First, we need political consensus that will see us through to 2019. Secondly, we need the involvement in the project of representatives of the business world: employers' associations, SMEs and trade unions. People have to understand what the switchover to the euro currency means, what the advantages and disadvantages of it are," Ponta wrote in a message posted on Friday on his Facebook account.
President Klaus Iohannis, Prime Minister Victor Ponta and National Bank of Romania (BNR) Governor Mugur Isarescu on Thursday discussed Romania's plans to adopt the European single currency, with Iohannis saying he will also consult with the parliamentary parties.
"Given the special complexity of the process of joining the Eurozone, President Klaus Iohannis launched consultations on this topic, so that Romania is best prepared and the adoption of the euro is beneficial to all citizens," the Presidential Administration explained.
The talks aimed to identify the main steps and responsibilities, in economic and institutional terms, for the single currency adoption in accordance with the commitments taken by the government under the 2015-2018 Convergence Program. It was also decided to set up a Coordination Committee for the process, to ensure the planning, coordination and monitoring of the stages and responsibilities necessary for reaching this goal.
Last year, Romanian officials announced the new calendar for the Euro Zone accession is 1 January 2019, with the PM pushing the date six months later. Two years ago, Romania announced it formally renounces joining the Euro Zone in 2015, as previously established. The announcement raised questions mainly about disadvantages such a step would generate among the population given the large economic gap between the country and the rest of the Euro Zone countries.
"The real convergence is very complicated to measure; it's not only the GDP per capita, but also the spread of development across the country. We cannot join Euro Zone only with Bucharest, but with the whole country and we need to evaluate the consequences. The very moment we joined the Euro Zone prices are aligned. A Bucharest can better go through an increase in the price of bread, because he doesn't eat much of it, but 100 kilometers away from Bucharest they eat a lot of bread," Romanian National Bank governor Mugur Isarescu explained at that stage.