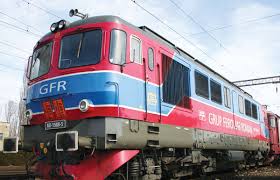 By Daniel Stroe – Bucharest
Grup Feroviar Roman SA (GFR), a private railway operator, won the bidding for CFR Marfa, Romania's state owned rail freight company, for about 202 million Euros and guarantees it will invest another 900 million lei (about 204 million Euros), the Romanian minister of Transport, Relu Fenechiu, announced late last night as the final negotiations trailed.
Initially, Fenechiu announced Grup Feroviar Roman submitted more than 180 million Euros, the money the state asked for, for the 51 per cent stakes in CFR Marfa, but the bidding company had some extra conditions which were in fact the subject of negotiations.
"After seven hours of negotiations I can inform you there's white smoke coming out" Fenechiu joked last night. "Today, we can declare the winner in the competition to privatize CFR Marfa" the minister added.
GFR initially sought to pay the 202 million Euros in tranches, but amid government pressure it backed down and gave up this condition. The winning bidder has two months to pay the whole amount of money after signing the contract which will most likely take place next week. But the transaction has to first get the green light from the Competition Council before any other steps to be taken.
Speaking to the state television, Gruia Stoica, owner of GFR said most of the 202 million Euros will come for bank loans. He assured he will pay the entire sum or else he risks losing about 28 million Euros, the guarantee deposit his company had to submit before the bidding process.
Despite claiming the success of the privatization, the Romanian government still has to answer the accusations brought by two bidding foreign companies which withdrew from the process. OmniTRAX, the largest private rail operator in Northern American, and the joint venture between the Romanian Transferoviar Grup and the Austrian Donau Finanz GMBH & Co KG both drop out of the race complaining about the lack of transparency of the privatization process and insufficient time to fully prepare the bidding file. Thus, GFR was the only company left in the competition. Many analysts accuses that, for political reasons, the privatization process was well steered so that GFR crosses the finish line alone.