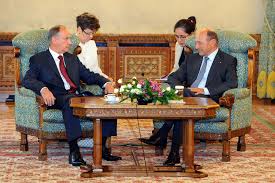 By Daniel Stroe – Bucharest
Romania is open towards cooperation with Russia, the Romanian President Traian Basescu told visiting general Nikolay Patrushev, the secretary of the Russian Security Council, Russia's supreme defense body.
Patrushev's visit to Bucharest comes amid efforts on the both sides to reset bilateral relations after years of mutual distrust, augmented especially after the United States decided to install its anti-missile shield in Romania, which Moscow sees as a direct threat to its nuclear deterrence. Russia has strongly opposed the American military system, despite Washington's assurance the shield is a defensive structure aimed at rogue states in the Middle East.
In Bucharest, the Russian general signed a memorandum with Basescu's security advisor, Iulian Fota, which lays the basis of mutual cooperation between the two country's supreme defense bodies. The memorandum provides for stronger cooperation in the fight against terrorism, trans-border criminality, human trafficking, money laundry and economic crimes, cyber-crimes and the spread of weapons of mass destruction, Basescu said in a press conference last night. "The fight against terrorism is of maximum interest to us since the ISAF mission in Afghanistan is on its last legs and we hope to be able to prevent together any terrorist act originating in this region" the Romanian President added.
Basescu also revealed the anti-missile shield was another topic of discussion. "I mentioned one again the system in Romania is not aimed against Russia, that Romania would never accept offensive weapons against other states on its territory" he underlined. "What I find difficult to understand is that they ask for guarantees, not from us, but from the United States, but the guarantee is the treaty itself which is public and which says very clearly the system is defensive" Basescu pointed out.
The President also touched upon the frozen conflict in Transdniestr, another thorny issue in the bilateral relations, and underlined the importance this problem has for Romania's security while calling on observing Moldova's territorial integrity.
"We also had divergent points of view but I agreed Mr Patrushev sends President Putin the message of our openness towards cooperation" Basescu said. Asked by the media if there is an official invitation for a high-level visit to Moscow, Basescu said there isn't one for the time being, but acknowledged he would like to receive one. In the meantime, the Romanian minister of Foreign Affairs, Titus Corlatean, will go on an official visit to Moscow next week which could be the concrete beginning of a bilateral rapprochement.