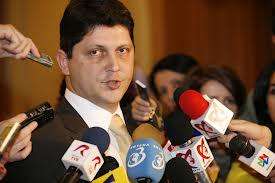 By Daniel Stroe – Bucharest
The Romanian minister of Foreign Affairs, Titus Corlatean, is to make an official visit to Moscow next month amid efforts on both sides to re-launch relations which have seen a decline over the past decade.
"There is an invitation for a visit to Moscow in July which is now being perfected. Details will be announced at the right time" Brandusa Predescu, the ministry spokeswoman said yesterday.
The last head of the Romanian diplomacy to have visited Moscow was Cristian Diaconescu, currently presidential adviser, in February 2009.
The Romanian-Russia topic relations was approached yesterday during a debate organized under the rules of the Chatham House during which it emerged that the Russia minister of Foreign Affairs, Serghei Lavrov, declares himself in favor of improving relations with Romania since, he also says, the Romanian-Russian dialogue lags behind.
Even if statistics show an increase of the trade relations between the two countries (4.4 billion dollars in 2012, up 1.8 per cent from 2011), the society remains entangled in "exaggerated stereotypes" generated by over-politicization of history.
Moscow pleas for separation of history from politics and underlines that, if historic aspects will prevail in the bilateral dialogue, the relations between the two states won't see any improvement. In terms of investments, Russia maintains it doesn't want its investors to receive favors, but doesn't want them to be discriminated against either.
As concerns the Republic of Moldova, Moscow thinks the country's adherence to several alliances is not antagonistic and says that since Romania speaks of Moldova's chances to join the EU, then Russia can as well speak of the former Soviet republic's chances to join the Russia-Belarus-Kazakhstan Customs Union.
Russia seeks to build this union as an economic counterweight to the EU and tries to draw in it most of the former Soviet republics. Moldova, which is now run by a pro-European government, has instead set joining the EU as its main foreign affairs objective.
Romania-Russia relations have cooled over the past few years, especially after the United States decided to install an anti-missile shield in the NATO member state. Russia fears the shield will annihilate its nuclear deterrent, despite Washington's assurance the system is not aimed at its strategic military capacities. Moldova, former Romanian territory until the second world war when it was incorporated in the Soviet Union, is also another political battle ground between Bucharest and Moscow.