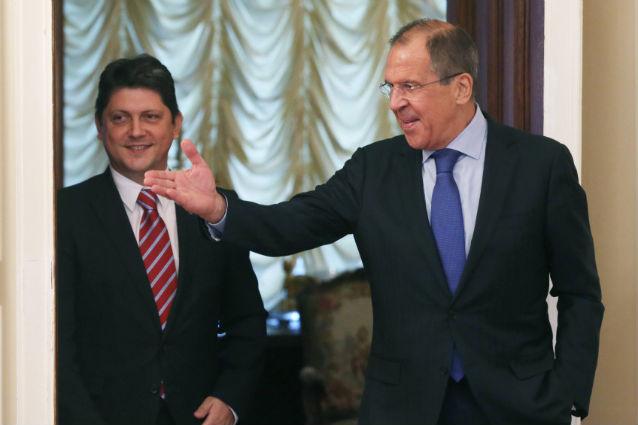 By Daniel Stroe – Bucharest
Bucharest and Moscow share the same desire to fully relaunch the diplomatic relations, despite conflicting ideas on joint interest dossiers, such as the US antimissile shield to be hosted by Romania, Russian foreign minister Sergei Lavrov said in a joint press conference with visiting Romanian counterpart Titus Corlatean.
Corlatean's visit is the first a Romanian FM pays to Russia since 2009, a period over which the two countries have gone through diplomatic turbulences. "It is a moment when we try to create an opening of the political dialogue; it is an anniversary time – ten years since the signing of the Bilateral Political Treaty and 135 years of bilateral diplomatic relations. It was a meeting that had pursued and confirmed a constructive, pragmatic, positive agenda and, at the same time, the wish confirmed by both sides to also back a solid economic part, to both sides' interest, of course, by means of the political-diplomatic dialogue", Corlatean said.
He outlined Romania is interested in balancing the bilateral trade balance, given that Romanian-Russian trade last year totaled 4.4 billion dollars, with Romania exporting only 1.3 billion dollars worth of goods. "We are interested in a more substantial presence of the Romanian companies in the Russian market, we have interests in the energy sector included, for example by direct talks and negotiations with the Russian Federation partners, without intermediaries, who inevitably affect the price of the gas exported by Russia to Romania", the Romanian FM pointed out.
In his turn, Lavrov said Russia considers Romania an important partner in Southeastern Europe. "We've held constructive and substantial talks. Both sides confirmed their intention to improve common atmosphere of Russian-Romanian relations, to develop a positive agenda and to surmount some difficulties that our relations have been facing over the past years," he said.
Lavrov also underlined Russia wants Moldova to remain a sovereign state, alluding to calls among Moldovan citizens the country reunites with Romania which part of was until the Second World War when was torn off through the Ribbentrop-Molotov pact. But the Russian FM said the future of the former little Soviet republic is for its people to decide.
Russia has been trying to attract Moldova into its Euro-Asia Union, an economic counterweight to the European Union. But the pro-European administration in Chisinau in place since 2009 has steered the country towards the EU and hopes to sign an association agreement with Brussels this fall.
Finally, the two ministers agree to find a common solution to the Transdnister frozen conflict. But the Moldovan PM, Iurie Leanca, who will be in Bucharest these days, warned that Moldova cannot keep its neutrality status unless Russia withdraws its troops from the self-proclaimed republic on the banks of the Dniestr river.