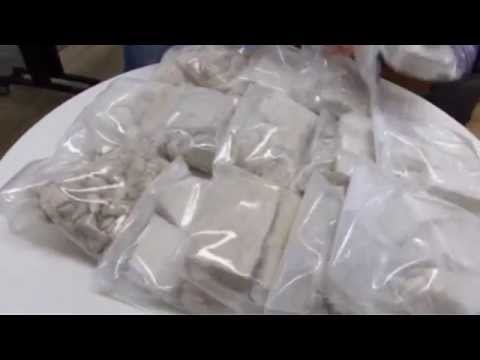 Bucharest, July 29, 2015/ Independent Balkan News Agency
By Daniel Stroe
Prosecutors with Romania's Directorate for the Investigation of Organized Crime and Terrorism (DIICOT) in Bucharest have today displayed 333 kilograms of heroin found on Tuesday in a lorry that was attempting to leave the country through the Petea Customs Check Point of the northwestern Satu Mare County.
The capture ended an almost four years' surveillance operation, authorities explained. DIICOT chief-prosecutor Daniel Horodniceanu told a news conference that this was the biggest heroin capture on Romania's territory over the past 25 years, the previous record being set in 2005, when about 256 kg were seized.
The heroin is 62-65pct pure and has a gross market value of 8 million euro; it could have brought 40 million euros after dealing.
The drugs were wrapped in packages and transported in a lorry, masked in special metal sheet tanks, covered in lead, so they won't be detected. The packages were soaked with paprika and pepper to confuse the narcotic detection dogs. The lorry, registered in Romania, was coming from Ukraine and was heading to Western Europe.
DIICOT chief-prosecutor added that a criminal group made of Romanian and Turks drug dealers was involved; 11 persons are heard in this case, with four (two Romanians and two Turk residents of Romania) already detained and brought to a court for arrest pending trial.
Police Chief Commissioner Jean Cucu added that information on this drug transport first leaked four months ago, from a criminal network under surveillance since 2011. The lorry was under direct surveillance all the time shortly after entering Romania at the Siret border checkpoint. It took the police one hour to take the drugs out of the metal boxes embedded in the fuel tanks. The heroine was then transported by helicopter to Bucharest.
The crackdown operation was coded "Green Arrow". Cucu exaplined drugs came from Afghanistan, via Azerbaijan, Georgia and Armenia, then across the Black Sea to Ukraine, and reached Romania as a transit station to Netherlands and other Western Europe countries. Romanian authorities have cooperated with their partners in Turkey, Ukraine and some western European states. Over 100 police officers were involved over the past week in catching the traffickers red-handed.