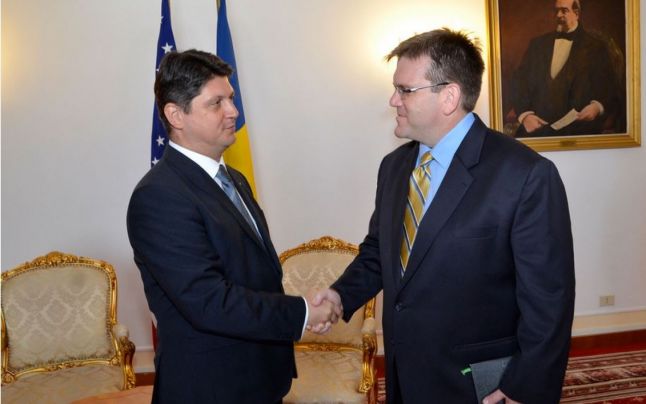 By Daniel Stroe – Bucharest
Dean Thompson, the new charge d'affaires of the US Embassy in Bucharest has met the Romanian officials, the Foreign and Defense ministers, at the beginning of a diplomatic term which will probably be busy for the US diplomat, given the constant pressure the American administration has put on Romanian authorities to abide by the rule of law and continue the anti-corruption fight.
Meetings were also attended by Duane Butcher, the current chief of mission, who is to wrap up his diplomatic term in Romania in a matter of days.
Romanian Foreign minister Titus Corlatean assured Thompson of Romanian diplomacy's support throughout his mission. The Romanian official also highlighted the excellent and privileged state of bilateral relations which has been enhanced by the visits to Bucharest of US Vice-President Joe Biden, Defense Secretary Chuck Hagel and a series of members of the Congress.
Corlatean also saluted USA's implementation of the anti-missile shield to be hosted at the Deveselu air base according to the agreed schedule and evaluated the stage of joint strategic projects, such as cooperation for the US troop's withdrawal from Afghanistan during which the US military will use the Mihail Kogalniceanu air base on the Black Sea coast.
Meeting Thomson, Romanian Defense minister Mircea Dusa also pointed out Romania's willingness to assist allies in Afghanistan after 2014. "You have a serious ally and partner in Romania on whom USA and NATO can always rely" Dusa told the American diplomat.
Dusa and Thompson also discussed Romania's efforts to equip its military with air fighters, a project that will take place with the US assistance. "When we speak about multi-role combat air fighters that NATO is equipped with, these panes will be modern, performing, to be able to carry out missions combat aviation has to fulfill" the Romanian minister said.
Romania doesn't have a US ambassador since December 2012 when the position was left vacant. Then US diplomat, Mark Gitenstein, played a crucial role amid the worst political crisis in post-communist Romania when then social-liberal ruling coalition tried to oust President Traian Basescu by changing laws and constitutional prerogatives overnight. US dispatched an envoy to mediate between the two sides and warn the ruling coalition to observe the rule of law. President Basescu was reinstated following a referendum.