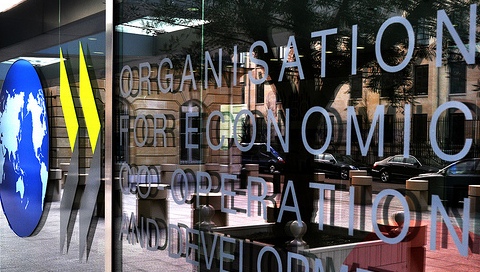 Bucharest, May 12, 2015/ Independent Balkan News Agency
By Daniel Stroe
Romania's accession to the Organization for Economic Cooperation and Development (OECD) is a strategic objective on the country's foreign affairs agenda, including the ongoing 2013-2016 governing program, Maricel Popa, secretary of state with the Ministry of Economy, Trade and Tourism, said during works of the 78th edition of the session of the OECD's Steel Committee, taking place in Paris, over May 11-12.
According to a press release issued today by the Ministry of Economy, Romania's accession to the OECD can bring countless advantages, among which the benefit of belonging to the top club of developed countries and the implicit recognition, at global level, of its status as a functional market economy and strenghtened democracy, with an impact on its country rating and the power of attraction of foreign investments.
At the same time, following its accession to the OECD, Romania could gain access to the necessary data in priority fields such as the governing framework, legislative reform, anti-corruption, tax policy, transport infrastructure, agriculture, education etc.
The Romanian official mentioned that, according to the governing program, Romania's efforts to accede to the OECD are mainly focused on the strengthening of Romanian experts' participation in the OECD structures and the strengthening of bilateral relations with the member states of the organization.
As concerns the theme of the reunion, the steel industry, Maricel Popa underscored that the steel sector in Romania has gone through many changes over the last couple of years, both in terms of production capacity, range of products and market development.
Romania is currently participating in 32 committees or other instruments of the OECD in various fields (agriculture, SMEs, foreign investments, competition, justice), in 18 of which it is either a legitimate member or an observer.
Romania's accession to the Organization for Economic Co-operation and Development is a strategic objective of the Romanian foreign policy, being included in the 2013-2016 government program. Romania reaffirmed in 2012 its intention to become a member of the organization through the letter addressed by the Romanian Prime-Minister Victor Ponta to the OECD Secretary-General, Angel Gurria, reads a posting on the Romanian Ministry of Foreign Affairs' website.
As an EU member state, Romania fulfils the OECD accession criteria, since the EU acquis (acquis communautaire), applied by Romania, is inspired by the organization's recommendations. At the moment, Romania has a general favorable assessment from the OECD, in light of its relevant position in the region, its constructive involvement in the organization's activity and its economic development potential. Romania could join the OECD in the medium-run, the text further says.