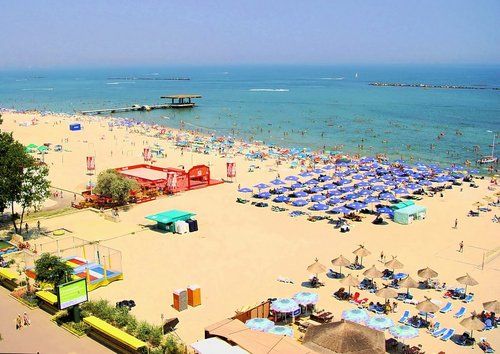 By Daniel Stroe – Bucharest
Romania comes fourth in a top of cheap seaside destinations across Europe, behind competitors in Bulgaria, Spain and Turkey, but ahead of countries like Greece, Croatia and France, according to a study done by the Federation of Employers in Romanian Tourism (FPTR).
The study started from a previous report of Post Office Travel Money which monitored prices of eight type of food and non-food products, which experts say are absolutely necessary during holidays, in 40 destinations across the globe, except Romania. FPTR continued this study by analyzing prices of similar products and services in Romania.
"The increase of taxes and prices of fuel, gas and energy, along the lack of measures to sustain tourism have caused the value of the holiday consumer's basket to grow. Romania has gone two positions down in the rankings compared to 2012 when it took the second position", FPTR said in a press release.
Thus, the holiday consumer basket as calculated by the federation places Bulgaria as the cheapest seaside destination (namely Sunny Beach), with 38.46 Euros, followed by Spain (Costa del Sol – 39.14 Euros), Turkey (Marmaris – 40.87 Euros), Romania (Neptun – 41.31 Euros), Greece (Corfu – 48.37 Euros), Croatia (Kvarner – 62.78 Euros), France (Nice – 63.97 Euros), Egypt (Sharm el-Sheikh – 72.42 Euros) and Italy (Sorrento – 80.89 Euros).
The holiday consumer's basket analyzed in this study included a meal for two adults (three dishes and a bottle of local wine), a glass of wine, a pack of cigarettes, a bottle of local beer, a 1.7 liter bottle of sparkling water, a coffee served at a coffee house, a bottle of refreshing drinks and a 15 factor sun lotion).
"Judging by these aspects, we can say that not prices are the reason that prevents foreign tourists from coming to Romania, but the fact our country is not known as an accessible destination for spending holidays, especially in the resorts on the Romanian seaside. Even if spending holidays in Romania could be a bargain for the foreign tourists, for the majority of Romanians vacation in their own country remains a luxury, because of their low purchase power", FPTR concluded.
The number of foreign tourists who visited Romania last year rose by 5.1 per cent compared to 2012, but is still below numbers registered in other European countries. Foreigners spent 3.5 million nights in Romania in 2013, four times below the results registered by Bulgaria and Hungary.