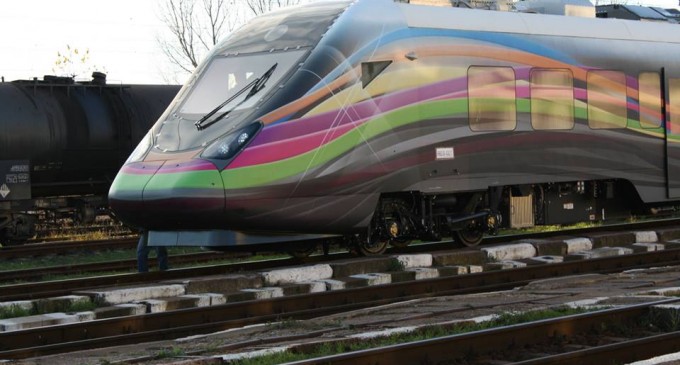 By Daniel Stroe – Bucharest
Hyperion, the first modern fast train built in Romania, is starting today operational on a rail route connecting SW Romania to the Black Sea coast, vying on a large market so far marked by poor services offered by state owned rail company CFR.
The new train connects Craiova, a city in SW Romania where the manufacturing company is based, with Constanta, the port city at the Black Sea, in six hours, running at a speed of 160 km per hour, while prices are lower than CFR's.
Radu Zlatian, a consultant with Softronic, the manufacturing company, said the train has received all the internal licenses and also features in the European passenger transport register which means Hyperion can also be used on European tracks.
"So far, the train has been used for demos and we have managed to show the train functions very well, that passengers are happy with the comfort because, as concerns the cabin, there have special conditions in the carriages, low level of noise, air conditioned, 220 V plugs to charge personal gadgets, free Wi-Fi" he also pointed out. The train is also equipped with sensors that measure the air temperature, the humidity and the CO2 level.
Zlatian also said the train has been already booked 80 per cent while over the weekend all the seats are taken.
Softronic, made in Craiova, where there's also a locomotive plant, is a bi-system electric rain. "The train has been made using the best technologies based on a project developed in 2012. It is based on our experience in producing rail vehicles and is equipped with the best electric, electronic and mechanical components. The inside and outside monitoring system ensures passengers' safety, with the engine driver watching everything live. The four carriages train observes all the European standards and the interoperability technical requirement" Zlatian previously explained.
Hyperion costs 3 million Euros and its construction was financed through EU funds, being the result of a 5 million Euros investment, the company revealed.
CFR is trying to catch up. A train ride connecting Bucharest to Constanta, the country's second largest city, now lasts only two hours, after modernization works at the rail line have been finished, the state railway company announced on 4 July as the holiday season is going into full swing.
Romania has a total of 20.000 kilometers rail lines, the seventh lengthiest in Europe, but most of the tracks have not been improved for decades, a situation which translates in significant delays. But the Romanian Government says EU funds allotted for the 2014-2020 financial cycle will help improve the rail infrastructure and trains will be able to roll at an average 140 km per hour.