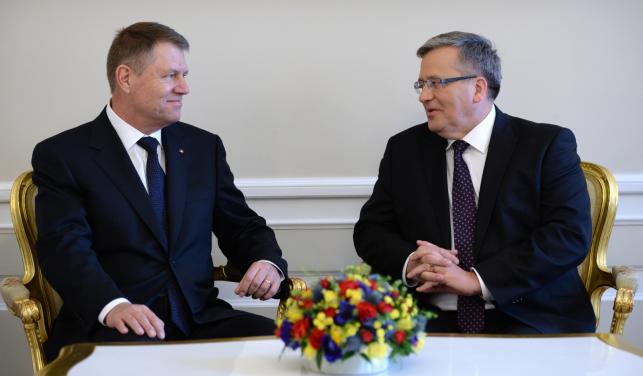 Bucharest, March 13, 2015/ Independent Balkan News Agency
By Daniel Stroe
Romanian visiting President Klaus Iohannis and his host Polish President Bronislaw Komorowski agreed in a joint statement last night that the two countries will support, within the Euro-Atlantic structures, all the steps necessary to ensure an effective answer to any threat towards juridical order in Europe and internationally recognized borders, an indirect reference to Russia.
According to the document, Poland and Romania will promote unity and solidarity within NATO and the EU, NATO-EU cooperation, as well as strengthening the trans-Atlantic relation, including through ensuring a permanent coordination on themes of strategic interests.
"Along the lines of the NATO Summit in Newport (2014) and in the perspective of the NATO Summit in Warsaw (2016), Poland and Romania support and will consistently act to strengthen the Alliance's Eastern flanks by the whole means NATO gas at its disposal or which it will create. The two countries will synchronize and intensify steps within NATO concerning a more robust, credible and sustainable allied presence on their territories, as well as in the region. In this context, Poland and Romania think it is essential to ensure proper defense budgets, in compliance with high level assumed commitments", the statements reads.
The document goes on to point out Bucharest and Warsaw will seek to develop their strategic partnerships with the United States. "In terms of security, the two countries will seek, among others, to ensure a relevant presence of the American troops on their own territories, an optimum contribution to the development of the anti-missile defense system in Europe, participation in joint mission and drills as well as fighting terrorism", it added.
The Polish president stressed that he treated the visit by his Romanian counterpart as "an opportunity to give a new impetus to the existing strategic partnership between Poland and Romania."I believe this partnership is an absolute must given the developments and the situation in our region of Europe, which has witnessed a profound, negative change in terms of security," Komorowski stressed, as quoted in a press release of the Polish Presidency.
Komorowski also expressed satisfaction with the joint declaration which the two presidents had signed earlier on Thursday and which, according to him, provides a framework for establishing closer ties and cooperation in different areas, including security.
In his turn, the Romanian president said the aim of his visit was to stress the importance of Romanian-Polish relations that are based on strategic partnership that the two countries should continue and develop in the light of the Thursday declaration. "We talked about our joint interests which we share in this region of Europe and which now face serious challenges," the Romanian president said. Meeting the representatives of the Romanian community in Poland, Iohannis stressed he hoped Romania will make a first step towards joining the Schengen area "in the first year of his office", namely 2015. Iohannis is wrapping up his two days visit today, after meeting Polish PM Ewa Kopacz.