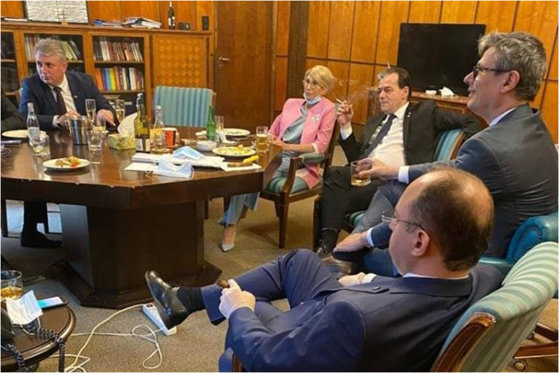 Five members of the Romanian government, including Prime Minister Ludovic Orban, were fined over a photo that circulated on social media.
Naturally, the Police fining five members of the government after a photo circulated on social media depicting them without protective masks in a government office, while some of them were smoking, became viral across the Romanian media.
The press reports that the total amount of these fines is 18,000 lei.
The prime minister received two fines totaling 3,000 lei for not wearing a mask and smoking in an enclosed public space.
Other members of the government who have been fined accordingly include Deputy Prime Minister Raluca Turcan and Economy Ministers Virgil Popescu, Transport, Lucian Bode and Foreign Minister Bogdan Aurescu.
The Prime Minister explained that the photo was taken on 25 May, the day of his 57th birthday. /ibna