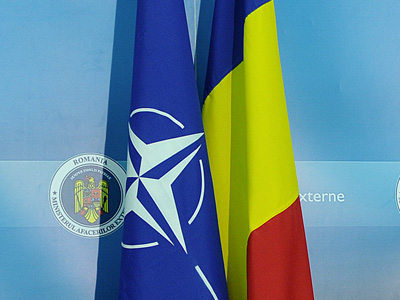 By Daniel Stroe – Bucharest
Romanian President Traian Basescu has today delivered a firm speech before the country's ambassadors attending the annual meeting of diplomacy and called for firmer sanctions against Russia while urging NATO to rotate high capabilities ships in the Black Sea that "can discourage the ideas of a sick man who believes he can rebuild Soviet Union's influence zones".
The head of state pointed out Romania's major stake at next week's NATO summit is to convince allies to relocate military ships in the Black Sea to dishearten Russia's further aggressive actions. "The Montreaux Treaty limits in time the presence of other countries' military ships in the Black Sea. A ship of a non-riparian country can spend 21 days in the Black Sea, but this rotation of major capabilities ships which can discourage the ideas of a sick man who thinks he can rebuild the Soviet Union's influence zones has to happen" Basescu told the Romanian ambassadors, hinting at Russian President Vladimir Putin.
The Romanian President also pointed out there is "no danger for Romania in a rational manner, but we have to prepare for the irrational as well". "If we look around the Black Sea we notice a necklace of frozen conflicts, Transnistria, Nagorno Karabach, Abhazia and now Ukraine is preparing to become a frozen conflict following Russia's actions" he added. Russia can invent anything in order to destabilize a neighboring country, he further said.
Basescu urged the West to move beyond mere statements. "The Ukrainian army is tired of how many helmets and non-lethal weapons it has received. It is time, if we want to give the Ukrainian people a chance, to act in the same manner the Russian Federation does. That means supplying the Ukrainian army with any available means that can help it in fight" he also underlined. He added that tomorrow, at the European Council, he would support efforts to arm the Ukrainian army and a re-evaluation of the sanctions against Russia, such as financial, energetic and military sanctions.
Romania, Poland and the Baltic Countries have the most vocal in denouncing the Russian aggression in Ukraine and called on NATO to redeploy troops in Eastern Europe to dissuade further military moves from Moscow. Speaking to the Western media this week, NATO secretary-general Anders Fogh Rasmussen said the Eastern European allies would get the security guarantees they have been seeking and pointed to the option of permanent bases in the region.