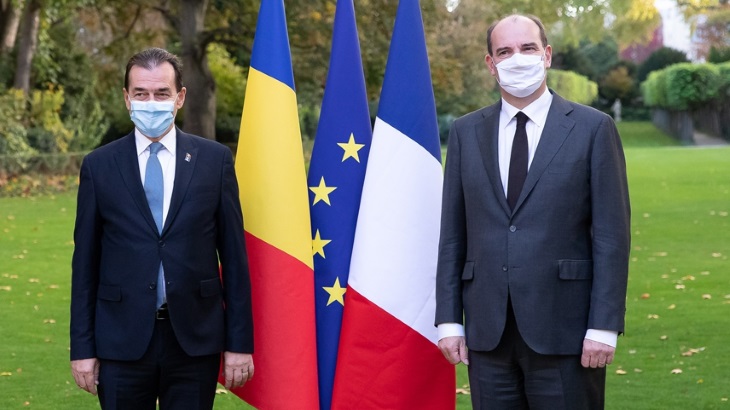 Yesterday Romanian Prime Minister Ludovic Orban, alongside the Ministers of Energy, Defense and Agriculture, had talks with their French counterparts and attended the signing ceremony of the document on the update of the France-Romania Strategic Partnership and the Roadmap for the coming four years.
The Romanian Prime Minister told reporters that he had signed a document expressing interest in cooperating in the construction of reactors 3 and 4 at Cernavoda, as well as the repair and modernization of Reactor 1. At the same time, France's participation in Romania's national armaments program was also discussed.
The updated roadmap concerns the cooperation of the two countries in the fields of defense, energy, nuclear energy for peaceful purposes, infrastructure, agriculture, communications and culture.
An agreement was also signed between Nuclearelectrica and French Orano.
As Ludovic Orban pointed out in his statements, the strategic relationship between the two countries also included important goals for Romania, such as accession to the Schengen area and the OECD, for which he received assurances of French support.
Regarding cooperation in the defense sector, current issues were discussed, such as the contract for the supply of four corvettes. The Romanian Prime Minister expressed the desire of Romania to proceed with their construction, as soon as the existing court case is resolved.
As for the equipment, Orban stressed that he appreciates the French interest, but pointed out that in many programs there are competitive, as he said, procedures, in which the quality is measured and the decisions are made according to the bids submitted.
At a press conference at the Romanian Embassy in Paris, Agriculture Minister Adrian Oros said him and his counterpart had discussed issues related to the new CAP, the Commission's biodiversity strategies, the Farm to Fork Strategy and the Green Deal. He also added that two deputy Ministers of Agriculture would be traveling to France today for talks aimed at developing a network of warehouses with Romanian products, on the basis of the French system.
In joint statements with his Romanian counterpart in Paris yesterday, French Prime Minister Jean Castex welcomed Romania's solidarity and support for Prime Minister Ludovic Orban following the Turkish President's attacks on his French counterpart. A scandal erupted over the cartoons of Mohammed and the assassination of Professor Samuel Paty. Ludovic Orban stressed that the statements by Recep Tayyip Erdogan addressed to Emmanuel Macron "were unacceptable". /ibna