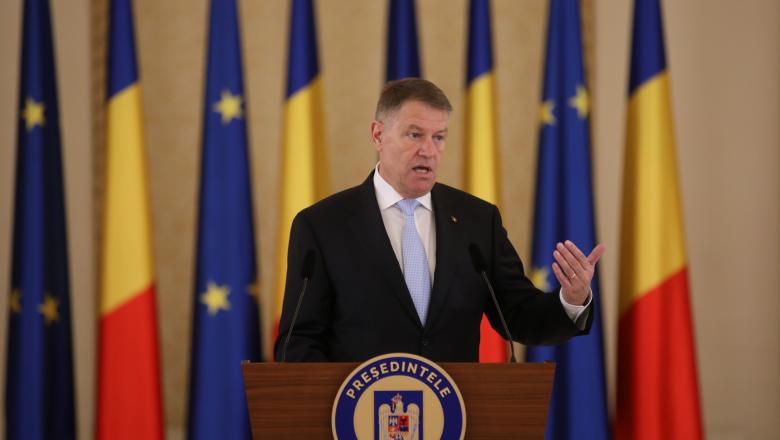 Romanian President Klaus Iohannis signed on Monday a decree declaring a national emergency in Romania for a period of 30 days. During the state of emergency, the exercise of rights is limited but the measures are implemented progressively, depending on the situation. There are several immediate measures and other steps that will be taken gradually.
Schools will remain closed during the state of emergency. If necessary, during this time a price ceiling will imposed on medicines and medical equipment, basic foods and utilities (electricity and heat, gas, water supply, sanitation, fuel, etc.).
Measures could also be adopted progressively if the situation becomes worse, only after an evaluation is carried out by the Emergency Committee. These include the temporary closure of restaurants, hotels, cafes, clubs, the gradual closure of borders as well as the restriction or prohibition of the movement of vehicles or persons in certain areas.
Klaus Iohannis, while announcing the 30-day state of emergency in Romania, stressed that the most drastic measures would be taken to protect the lives and health of Romanians, but must be respected by citizens in order to be proven effective. The Romanian President also called for traveling to be avoided, for rules to be followed and for the vulnerable to be protected.
In addition, Klaus Iohannis noted that those affected by the measures would be supported by the Government in an effort to help out society and economic activity in the country.
As provided by Emergency Decree No1 of 21 January 1999, the state of emergency is imposed for a period of up to 30 days with the possibility of the President of the country extending its duration with the assent of Parliament, as well as extending or limiting the (geographical) area it provides for.
It is enforced by a Presidential Decree, signed by the Prime Minister and published immediately in the Government Gazette. It shall be announced by the media within a maximum of two hours from the moment it is signed, and shall be repeatedly broadcasted over the first 5 days, alongside the urgent measures which shall apply immediately.
Romanian authorities have asked Romanian tourists abroad to return to the country promptly, warning them of the risk of being denied entry due to measures adopted by other countries. For those returning from zones with more than 500 cases, the compulsory requirement of home isolation was introduced.
Special provisions were adopted for the return of some Romanian citizens from Italy with a specially designed aircraft , where a very difficult situation has arisen especially in the north. After a lockdown was declared in hotels, restaurants etc in resorts and beyond, many Romanians, some of them with employment contracts, were left unemployed and sought help from the Romanian state to return to their country. The Romanian authorities direct them to the competent Consulates in Italy, urging them to make use of the opportunities provided by the Italian State to workers in these sectors who were left unemployed.
In his statements yesterday, Prime Minister Ludovic Orban stressed that his country could not close the border because it would violate the right of Romanians to return home, as he said. Anyone coming from Italy should be quarantined or isolated, he stressed, urging workers who worked in hotels in Italy and Spain to look for support provided by those states. Romanians in Italy amount to approximately one million. More or less another million lives in Spain. /ibna