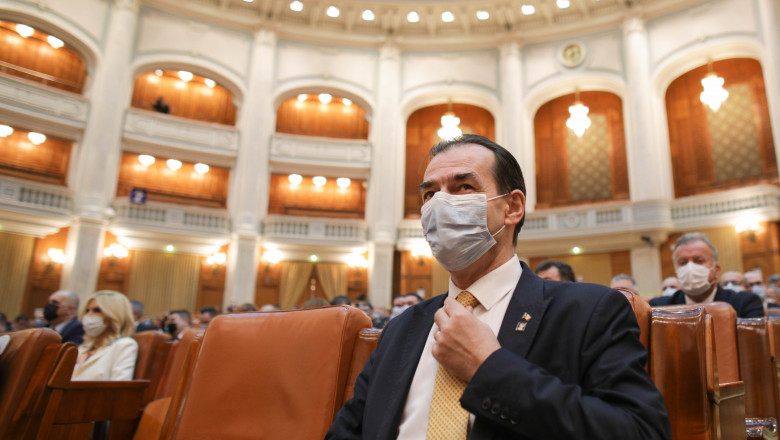 After a 14-hour meeting, the new MPs and senators were formally ratified and the PSD, PNL, USR, UDMR and AUR parties distributed the posts in the presidencies of the two houses.
The center-right alliance has officially taken power in Parliament. Ludovic Orban was elected Speaker of Parliament after a marathon session that ended around 3 am, and after the AUR took the opportunity to cause a scandal to make its presence felt.
The meeting was chaired by AUR MP Lucian Feodorov due to his advanced age, who decided to draw the session to an end after the swearing-in of the deputies of the party who, headed by George Simion, left the hall complaining that the other parties had pre-agreed on the election of Ludovic Orban.
It all started after the request of the PNL Parliamentary Group chief Gabriel Andronache to continue the plenary session for the election of the Speaker of Parliament. In addition, after the meeting was adjourned, PSD parliamentary group leader Alfred Simonis announced that he would run for the presidency and would face Orban, albeit the party had nominated another candidate.
George Simion went on to accuse the PSD of colluding with the PNL and left the hall, with Feodorov terminating the meeting. Gabriel Andronache (PNL) announced that if Feodorov leaves, he would be replaced by the next senior member of parliament, who happened to be from the AUR again, and therefore also refused to continue the meeting.
The plenary session went on and concluded the work chaired by Iusein Ibram from the group of minority MPs.
Ludovic Orban was elected president in the second voting at around 2 am, defeating PSD candidate Alfred Simonis.
In the Senate, everything went smoothly and USR candidate Anca Dragu was elected the first female president, stressing in her speech that she would maintain equal distance from the parties and priority would be given to respect towards the country's citizens and her colleagues, who are not above the law but are rather at the service of the citizens. The Senate, she stressed, must return to its legal role; becoming a place of discussion and not an instrument of narrow party interests. /ibna