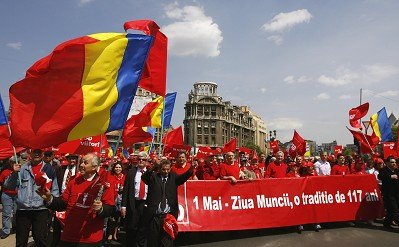 Sarajevo, April 30, 2015/ Independent Balkan News Agency
By Mladen Dragojlovic
More than 36,000 policemen, gendarmes, border policemen and firefighters will be on duty as of today till Sunday to watch over the 1 May public events and ensure public order, Romanian authorities announced as 30,000 state employees went on a strike asking for a better pay.
"The numbers will be close to those during the Easter holiday, when, as you know, there were no serious incidents recorded to disturb the climate of normality and the public safety. We will have 23,500 policemen on the field, 5,400 gendarmes, 4,100 firefighters and 3,500 border policemen," Home Affairs Minister Gabriel Oprea said today, in a video-conference with prefects and the chiefs of the ministry's local branches.
He went on to highlight that, on May 1 and on the National Youth Day (2 May), a great number of manifestations will be held across the country as well as numerous cultural-artistic activities that will see the participation of a great number of people.
"Last year, for instance, there were more than 50,000 tourists who spent their mini-holiday at the seaside. And since the weather is announced to be mostly fine, we think that this year many will go there as well. That's why, in order to manage the situation in the best way, we adopted a common plan of measures within all the structures of the Ministry," Oprea, who also fills the deputy-PM position, said.
As security measures are being put in place, trade union members in the public administration stopped their work today to protest against what they call Government's incapacity to implement the law of uniform public pay. Deputy Chairman of the Cartel Alfa National Trade Unions Confederation Petru Dandea said more than 30,000 people nationwide would go on a general strike on April 30.
"We have tried to find solutions through a dialogue with the Government, but we have failed so far to reach common ground. More than 20 pay classes are either on the threshold of the average wage and even falling under. Nearly 25 per cent of the public administration is paid less than the minimum wage of 1,000 lei (about 230 Euros). Postponing the law is completely outrageous as far as we are concerned," Dandea told a news conference.
The strike started in the morning and lasted throughout the whole work day. Up to 600 employees also protested in front of Bucharest City Hall.