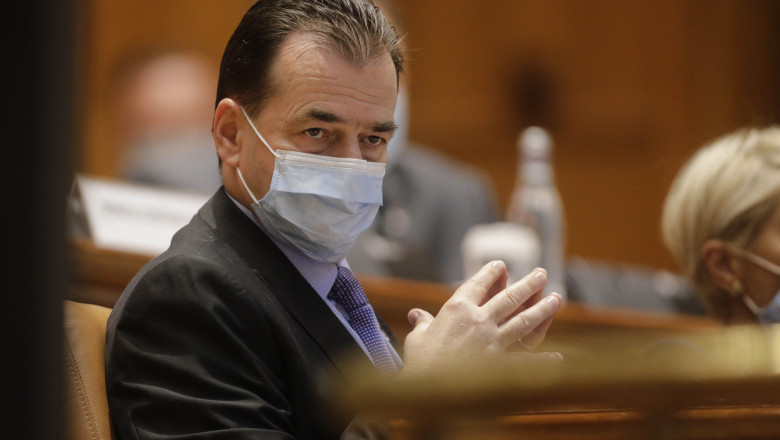 Romanian Prime Minister Ludovic Orban announced yesterday on B1TV that the use of a mask will be mandatory in all public spaces, open and closed in Bucharest, following the meeting of the National Committee for Emergency Situations (CMSU) , scheduled to begin at 3 p.m.
The operation of restaurants, cafes, theaters and cinemas will also be suspended for a period of 14 days, with a reassessment of the situation thereafter.
"At the request of representatives from the field of culture and HORECA, we have introduced a limit of 3 per thousand, higher than which activities in the aforementioned sectors shall be suspended for 14 days", said Mr. Orban.
Minister of Education Monica Anisie stated that the Bucharest School Inspectorate proposes the 'red scenario', that is, exclusively online courses, starting tomorrow for all schools and kindergartens, public and private, as the infection rate in Bucharest exceeded 3 per one thousand population. Over the weekend, there were piles of conflicting statements about who is responsible for closing schools and when the 'red scenario' applies. Ms. Anisie, trying to explain, spoke of "miscommunication".
Prime Minister Ludovic Orban insisted that tests showed that 'spontaneous celebrations' were responsible for the spread of SARS-CoV-2 in 3,300 towns, cities and villages, following the victory in the municipal elections, attended by "dozens or hundreds of people", and explained that for this reason the government banned such events.
In the last 24 hours, 2,466 new cases of COVID-19 were recorded in Romania, after only 8,040 tests. According to the Strategic Communication Team, 59 people were added to the list of victims in the last day.
The ICU treats 757 patients in serious condition. 10,296 patients are treated with COVID-19 in special hospitals.
The total number of cases has reached 182,854. Since the pandemic began, 5,931 people diagnosed with the virus have died.
To date, 2,860,226 tests have been performed in Romania. /ibna