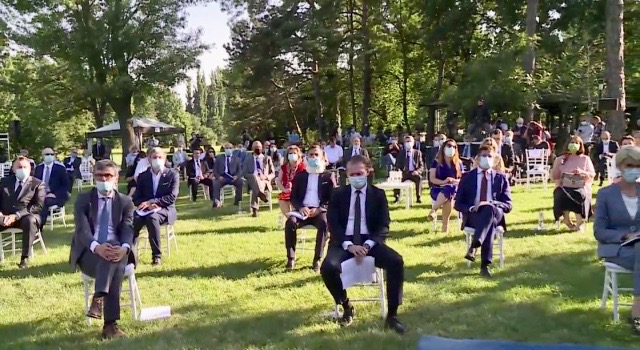 The official presentation of the Orban Government's National Investment and Economic Relaunch Plan, in the presence of the President of Romania, the PM, the political parties, foreign diplomats and businessmen, became viral across the media, with extensive reports and commentary.
In his speech, President Klaus Iohannis stressed, among other things, that Romania deserved a European-level road network, a strong energy system, competitive industries and service sector, and all this could only be realized by accelerating major investment programs, in an effective and transparent way. He added that he had received assurances from the government that infrastructure projects would be completed in the coming years and that new road projects would be launched.
The PSD, through interim President Marcel Ciolacu, accused the government of copying the party's program. The leaders of the rest of the parties also reacted negatively, as they were not included in the consultation process.
Many analysts have described the Economic Relaunch Plan as an election manifesto, which includes many projects that have been the subject of much debate for 30 years, and which at some point need to be implemented.
Some analysts, remaining anonymous due to the conflict of interests that arise from the positions they hold in institutions, commented that the projects were not related to the crisis and the restart process, as European funds were allocated to which Romania was entitled either way; the only difference is that, now, the EU finances the country with additional funds, which will cost the country only as much as the funding. Nothing new is included in the program, except for some measures in the context of the pandemic, they stressed.
An analyst who reached out to sources from the European Commission said he had received comments that "when you make a billion-dollar investment plan for a decade, it should be the result of discussions with all parties, the business world, the unions, the banks, the BNR, because this is how it is done in other countries". Therefore, they only see an election program in it.
The economy relaunch plan presented yesterday includes the issuance of a holiday voucher for retirees, intended exclusively for spa therapy, but also the provision of incentives to travel agencies to attract tourists who will spend more than 5 nights in Romania (incoming). Guarantees were also given for agency vouchers and others for travel cancellations due to coronavirus. /ibna