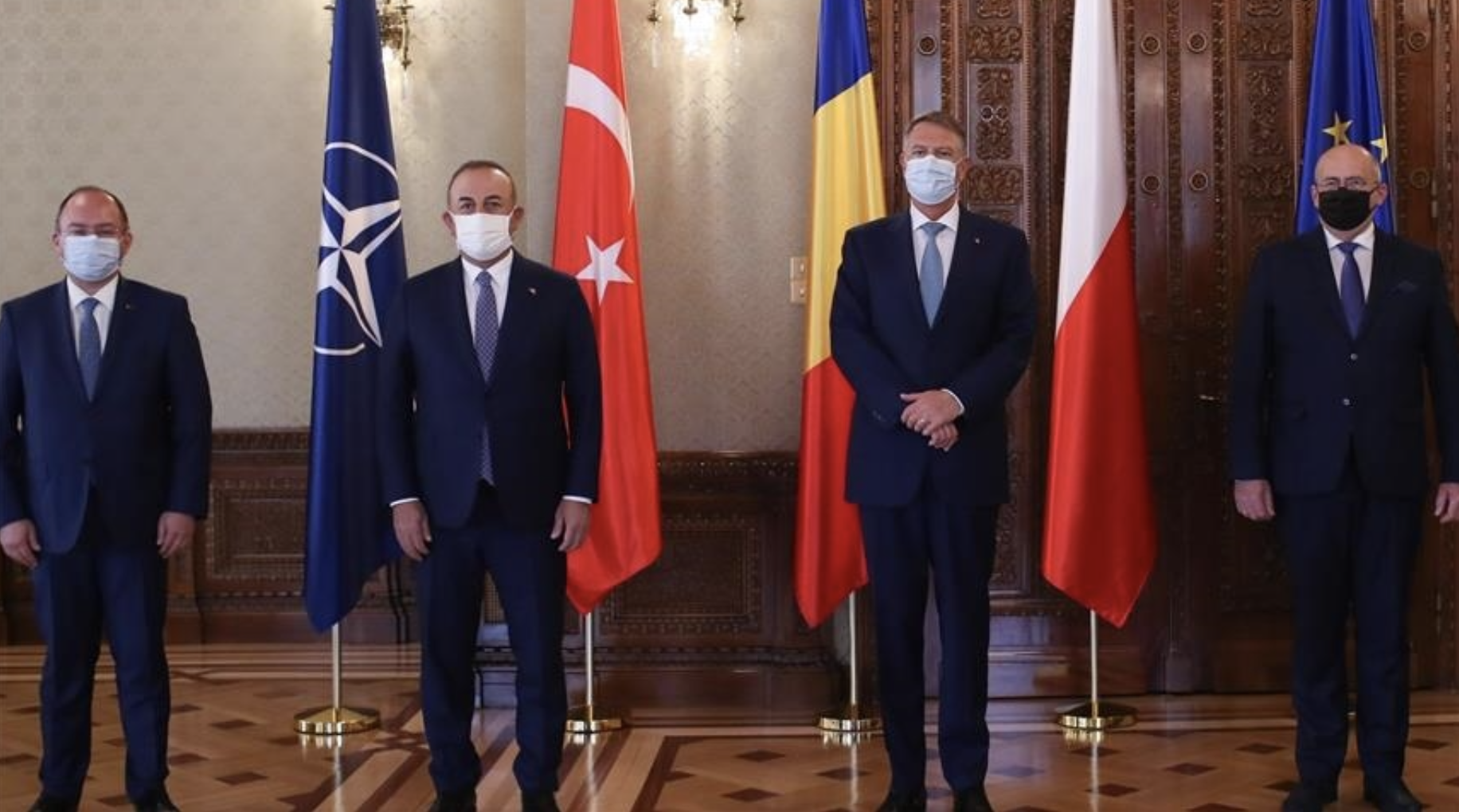 Romanian President Klaus Iohannis, received yesterday in Cotroceni the Foreign Ministers of Poland and Turkey, on the sidelines of their participation in the work of the Romania-Poland-Turkey Tripartite Security Meeting hosted by Romania on 22-23 April. Romanian Foreign Minister Bogdan Aurescu also attended the talks.
According to the announcement of the Presidential Administration, the Romanian President and the Foreign Ministers discussed the security situation in the Eastern Neighborhood of the North Atlantic Alliance, the regional security agenda and the preparations for the NATO Summit.
Klaus Iohannis highlighted the important role of this tripartite dialogue set up at the initiative of Romania in 2012, in supporting NATO's efforts to consolidate security in NATO's East Wing from the Baltic to the Black Sea, as the three countries share a number of common security interests, the statement notes.
The Romanian President expressed Romania's concern over the situation created by the "unusual deployment of military forces in the illegally occupied Crimea and the eastern border of Ukraine". The Foreign Ministers of Poland and Turkey, Zbigniew Rau and Mevlüt Çavuşoğlu respectively, shared the same concerns and analyzed the conditions and possibilities for defusing the situation.
Klaus Iohannis also spoke about the importance of strengthening defense on NATO's East Wing, increasing NATO resilience and supporting neighborhood partners. He advocated the continuation and diversification of political consultations on a larger scale, alongside cooperation in this tripartite format which has proven its usefulness over time. The President of Romania encouraged the promotion of new projects in the context of the tripartite cooperation in areas of mutual interest such as resilience – also through the lessons learned from the COVID-19 pandemic, on the basis of a substantial agenda that will contribute to the consolidation of the North Atlantic Alliance.
Additionally, Klaus Iohannis encouraged the deepening of the tripartite cooperation in the defense sector. A real interaction of the three allies in this format would be, as he said, a tool of coordination and joint action, with the ability to bolster regional security and shield the Alliance as a whole.
The Romanian President welcomed the presence of the Foreign Ministers of Ukraine and Georgia at the special working tripartite meeting in Bucharest, arguing that this initiative adamantly reaffirms the firm support of Romania, Poland and Turkey to their Eastern NATO partners.
He also stressed the need to continue NATO's defensive and defense measures, and thanked Poland and Turkey for their contribution to NATO's advanced presence in the south of the Eastern Wing, which is extremely important in ensuring security in the Black Sea region, an integral part of Euro-Atlantic security.
The President of Romania expressed hope that Romania, Poland and Turkey would continue the close cooperation in view of the NATO Summit which will be extremely important for the future strategic vision of the Alliance. /ibna